There are three key things that make watercolors completely different from other paint mediums. These are also tips to help you with your painting success.
If you know the nature of the thing, your interactions with the thing become more satisfying.
Here are three key things to know about the nature of watercolor paints that we've never said before.
1: The fastest drying time
Watercolor paints are one of the fastest-drying paint mediums out there. This is what makes it possible for an artist to produce several quick watercolor paintings in a single afternoon.
You might have to wait an hour or two for acrylics to dry enough to continue working on your painting.
You might have to wait a MONTH (depending on the weather) for oils to dry enough to continue working on your painting… but watercolors… they dry in minutes.
Not only do they dry quickly, but every new layer of paint sinks into the layers below. You can blend watercolors with new color even after they have been dry a long time.
2: You can always remoisturize watercolors
When oil or acrylic paint is dry, there is nothing you can do to moisturize it again. The best you can do is paint a whole new layer of paint on top.
Watercolors remain water soluble even after they dry, and that goes both for your painting and for your palette.
If you are using tube paints and you squeezed too much on the palette… worry not! Even when your palette is dry and crusty it can still be remoisturized. As a matter of fact, you want the watercolor palette to dry properly before covering it or putting it away to discourage mold growth.
3: Tint by layering
Watercolor is made for tinting. The binder used in watercolors is not only water soluble but also transparent… and that is on purpose.
You can load your paintbrush with thick heavy paint to darken an area of your painting… alternatively, you can gently apply several layers of paint to the same area to gently and smoothly tint it darker.
The traditional romantic watery paintings made with watercolors rely on this to create those mystical feelings.
Just look how Elizabeth Becker does it: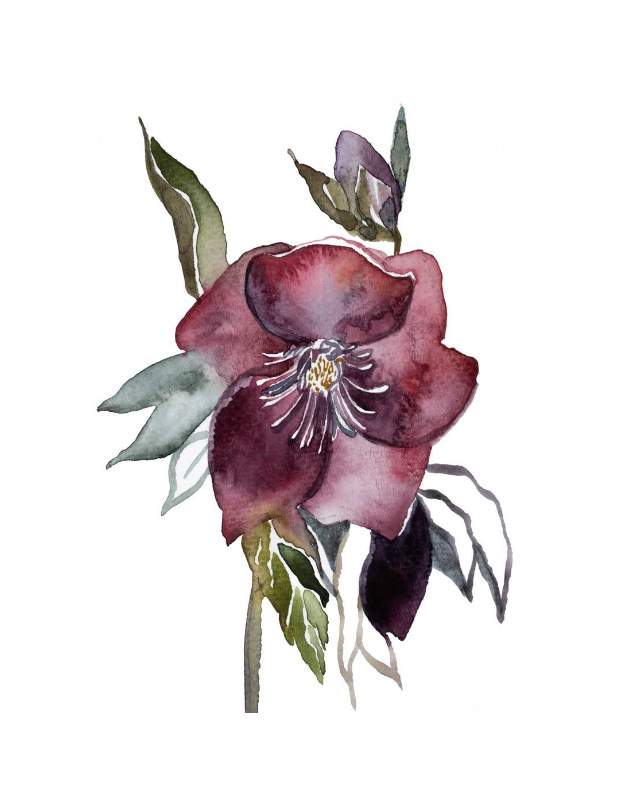 Hellebore No. 26, Elizabeth Becker
Upgraded 48 Colors Watercolor Paint, Washable Watercolor Paint Set with 3 Paint Brushes and Palette, Non-Toxic Water Color Paints Sets for Kids, Adults, Beginners and Artists, Make Your Painting Talk