If you are a real beginner you might be asking right now: what do you mean watercolor paper? Isn't all paper the same?
Well… it isn't.
Most paper - the regular kind that you feed to your printer - does not have adequate absorption capabilities and makes your paint run over the smooth surface rather than stay where you want to put it.
Wow! This sure explains all my painting failures in elementary school… Do you mean all I needed was the right paper and I would have been a prodigy?
Maybe not.
At least now I know better. Give me a couple of minutes and I will tell you all you need to know about watercolor paper to avoid common frustrations.
Here are three essential things you need to take your brushwork to the next level.
"Because watercolor actually moves on the paper, it is the most active of all mediums, almost a performance art." (Nita Engle)
1: It is usually made of cotton
Watercolor paper is usually made of cotton. Cotton gives it the absorption ability to help you keep the paint in place. This type of paper is standard among professionals because it does not bend, pill or warp as it is drying.
Cotton paper can be made by a machine handmade.
According to some artists handmade paper is best for working with watercolors.
Cotton paper, also known as rag paper or rag stock paper, is made using cotton linters or cotton from used cloth (rags) as the primary material. (Wikipedia)
Making paper by hand is an art form of its own. Often flowers or small leaves are used in the handmade paper to give it an interesting texture when making letter paper or greeting cards.
If you started by making the paper before you paint on it, you could use these botanical elements in a purposeful manner to support your final painting.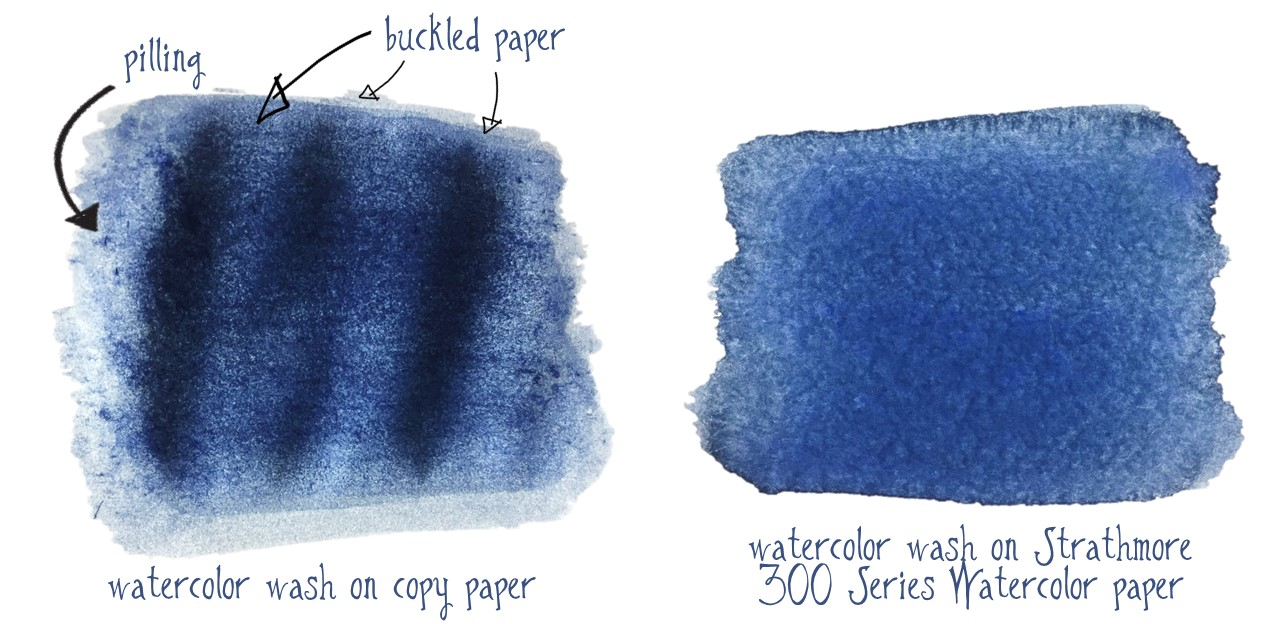 Image from Strathmore Artist Papers
2: It can have weight problems
On your package of paper you will see a label with the paper's weight.
This weight is based on the weight of 500 sheets of paper and the number usually is between 140 lb to 300 lb. The higher the number, the heavier and better paper (usually).
This weight is what will allow the water from your watercolor paints to be absorbed and kept in place.
Watercolor paper comes in two types of quality: artist-quality and student-quality. They differ in functionality, weight, and price. Obviously artist quality paper is the best you can get. If you look online you will find there are a few different manufacturers who produce different types of artist-quality painting paper.
3: It has teeth
Actually it's 'tooth' which is a term that describes how fuzzy the surface of the paper is - the more little hairs (tooth) the more obediently your paint will sit exactly where you put it.
This tooth, along with weight, helps your paint behave and not run away from your design.
The tooth is a description of the roughness of the surface of the paper. The more tooth it has the rougher it feels. If you touch your printer paper you will feel that it is very smooth on the surface. It has no tooth.
Printer paper is usually made of wood pulp and is very smooth which is what works best for your printer.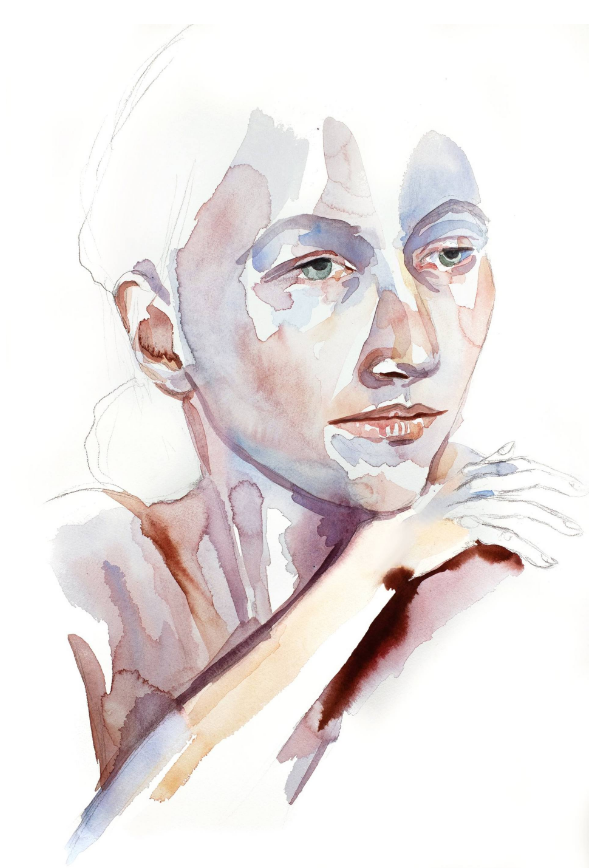 Desolate Painting, Elizabeth Becker, United States