"I used to spend a lot of time staring at my work and rethinking pieces through, but due to the nature of my paintings now, I just paint and try not to think about it. I think when you spend a lot of time examining your work, it can wreck it.." (Janet Hill)
I was just shopping on Etsy and suddenly in my suggestion bar there it was… not a kitschy flashy repeatable something but REAL ART.
I clicked and in awe continued to peruse the variety of pieces this Canadian contemporary artist produces.
Janet is a visual artist and a children's book author. Her pieces are full of mystery, playfulness, and grace. Each of her paintings seems to tell a story. Just take a look at the main characters and the beautifully added details.
In reality, each of these works could have a poem or a whole storybook written about it and what is going on there. The more you look the more you see and the more questions you ask yourself.
How are all of the elements in each painting connected? It's a journey into every one.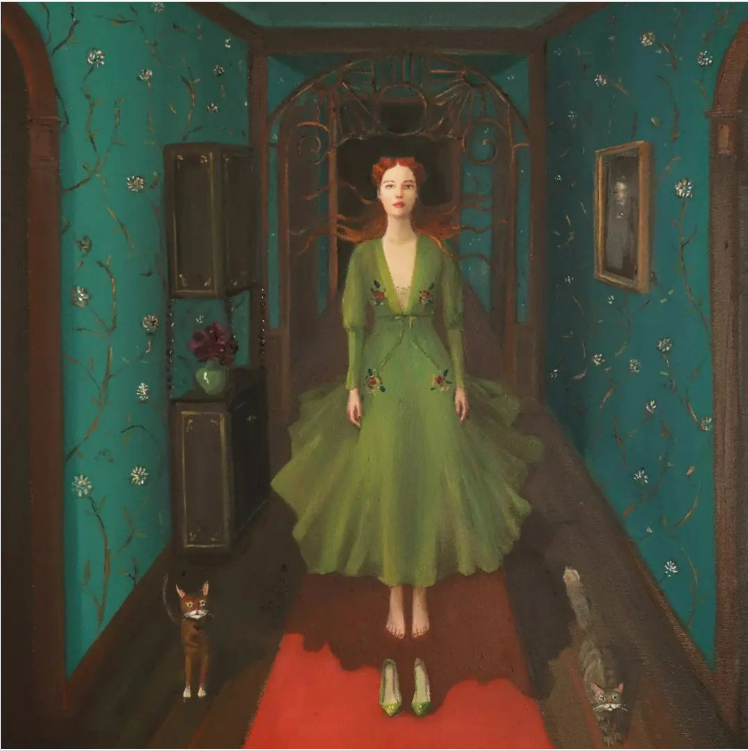 What is going on there? Why did the girl in the hallway remove her shoes? Did she just get home? Where are her slippers? Those floors look cold. Looks like there is a draft from somewhere.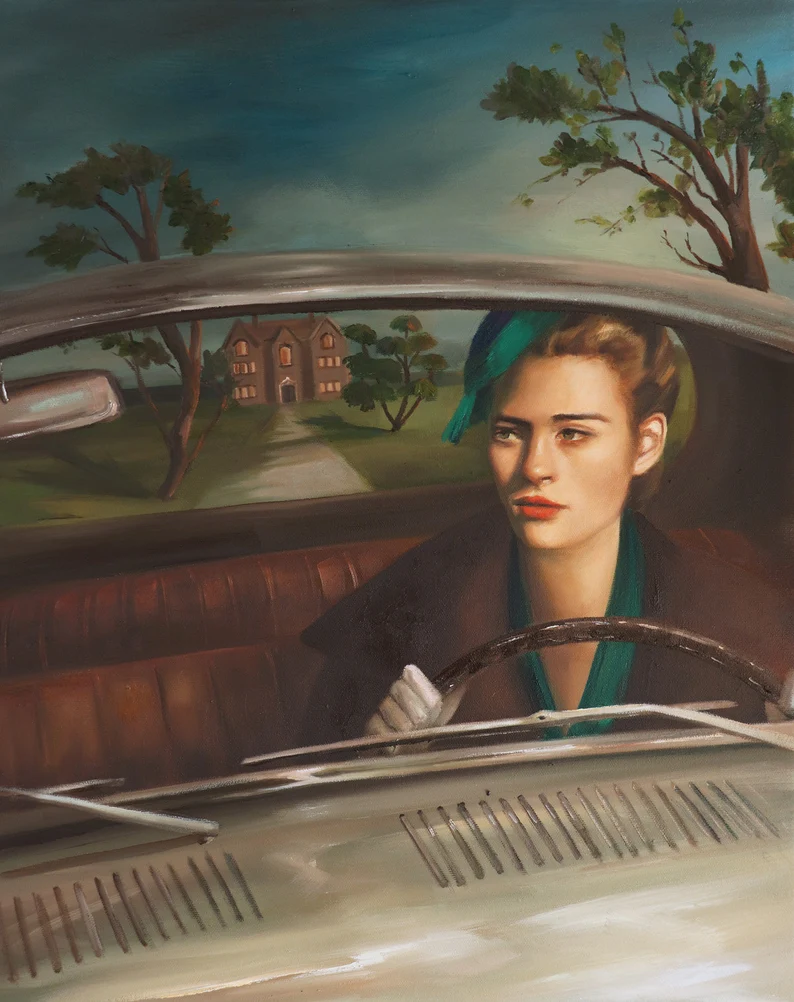 And what about this lady, leaving the big farmhouse, or is it a beautiful mansion… with mixed feelings? What is her story? What is she leaving behind? I hope it's for the better.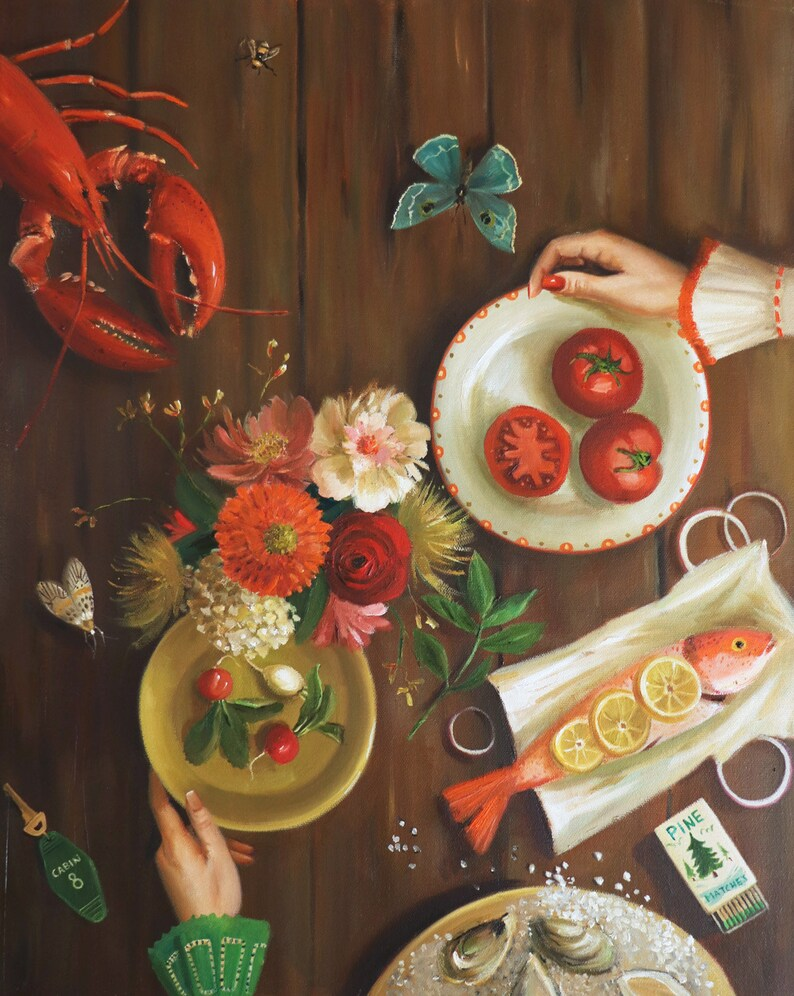 What kind of a dinner table is this? Why is there no plate under the lobster? Are they wearing costumes or is this a historical piece? Did people stay in cabins in previous centuries?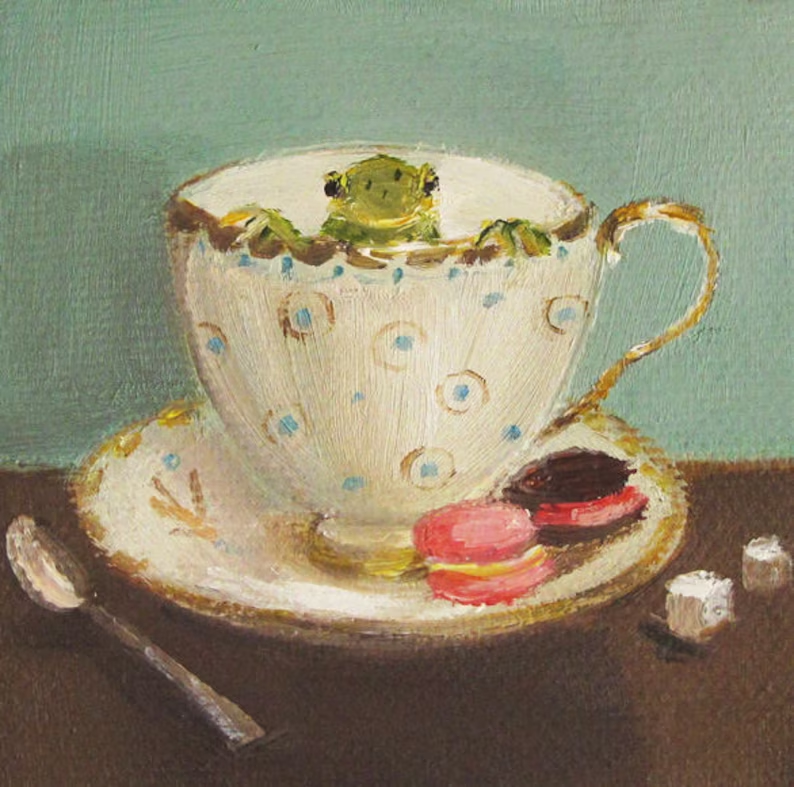 Is that a frog? How did it get into the teacup without anyone freaking out? Does it live in the house? Is it his tea? Those macaroons sure look fancy…
---------------------------------------------------------------------------------------------------------------------------
Well, that was fun. I love having all those questions as infinite options to look deeper into these works. I don't really want to know the real answer as the options make each painting more fluid and magical.
Here are some comments on Janet's paintings from her followers:
"Stunning work as always! I am so happy to add this gorgeous piece to my collection!"
"Amazing! Bought this along with another Janet Hill print. I can't get enough!!! Fabulous quality and unmatched creativity."
"How does she do it? "Today, I'll paint a froggy in a teacup with some cookies and sugar cubes," and then it turns out so adorable you have to frame it. Just sitting on my desk, this print gets compliments."
"I simply adore this artist so much! I'm carving out "a room of my own" and filling it with art I like!!!"
I am sure that I and every single one of you reading this article will agree with the last statement. We are either already doing it or planning to fill our computers, rooms, and minds with beautiful art.