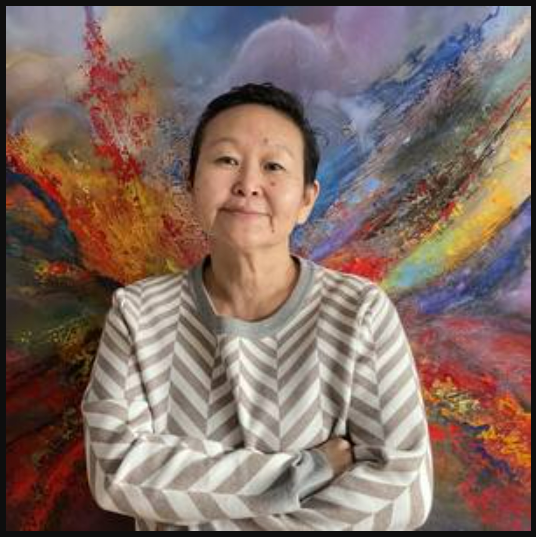 "My heart sings when I create."

Dolgor Dugarova is a Russian artist based in Hasselt, Overijssel, Netherlands.
We have included her works in other Beebly's blog posts. Today we highlight some of her latest works and show you how Dolgor pushes the envelope when it comes to changing and updating her style. Her painting descriptions are also outstanding. They are full of poetic imagery and flow like fine wine. When admiring Dolgor's paintings you get the double pleasure of enjpyoing her descriptions as well. It's a feast for the soul.
Dolgor Dugarova has shown her paintings internationally. Dolgor expresses herself in many different styles from realism, to impressionism and abstract. She states that through these different-looking pieces, she expresses different parts of her soul. Dugarova describes her artistic practice as an endless search for new subjects and techniques. Her paintings are created using acrylics, oils, egg tempera, pencils, ink, and watercolors on linen, cardboard, or canvas.
She is full of surprises as she switches from abstract to fantasy to hyperrealism. This artist is prolific and exciting and we can't wait to see what she will show next.
Lilac, 2022
Oil on Canvas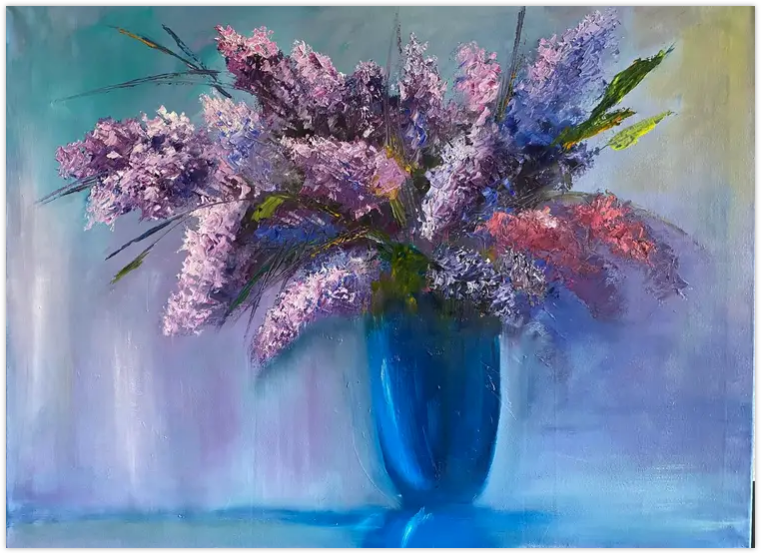 Floral art.
Beauty will save the world?
Artists know best the answer to this question.
Flowers are a favorite theme of artists. Their bright and delicate colors and indescribable aroma fill people's hearts with love and beauty.
Sadness and bad mood dissolve when looking at these beautiful creations.
Plays of inflorescences of lilac, red, lilac, blue flowers create many shades, sometimes reminiscent of the soft glow of mother-of-pearl.
Do you want to plunge into the charming atmosphere of spring and inhale the unusual aroma of lilacs?
Silence Painting, 2014
Acrylic on Canvas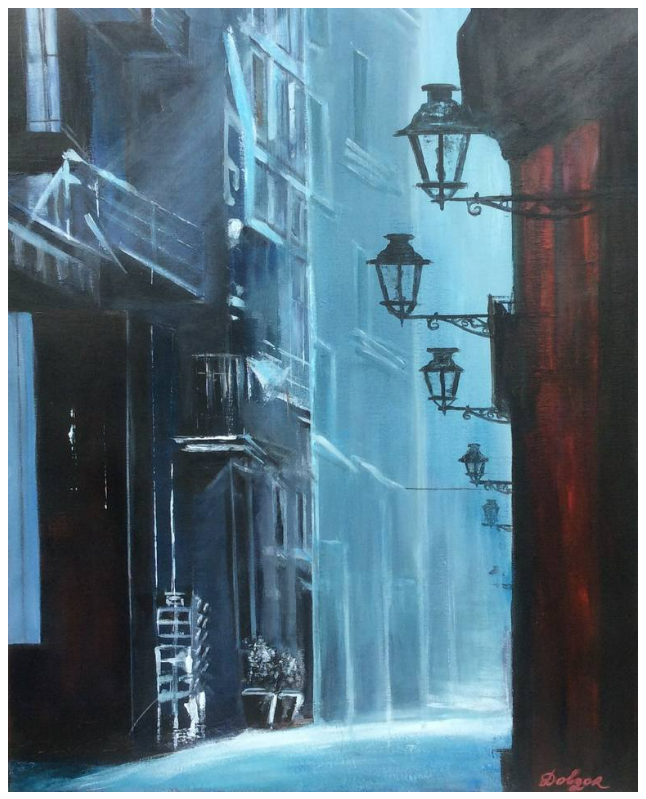 Calm quiet side street in the early morning. People are still sleeping.
And only your steps are loudly heard in silence.
Summer holidays in the Mediterrane Painting, 2017
Oil on Canvas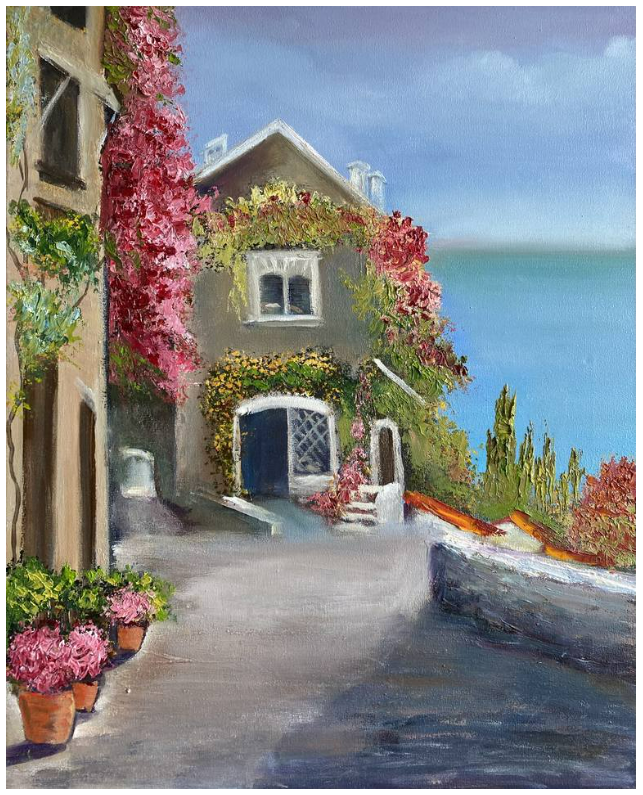 Summer holidays in the Mediterranean.
What could be best in summer? Of course, the time spent at sea. Let's move somewhere in the enchanting hospitable Mediterranean. Where you can walk along narrow winding streets, along the houses, with bright tiled roofs, immersed in the greenery of lemon and orange gardens with terraces descending to the sea. The sea fascinates you so that you don't want to return home.
This picture is a reminder of a magical time. For you romantics and sea lovers!
Dandelion Painting, 2021
Oil on Canvas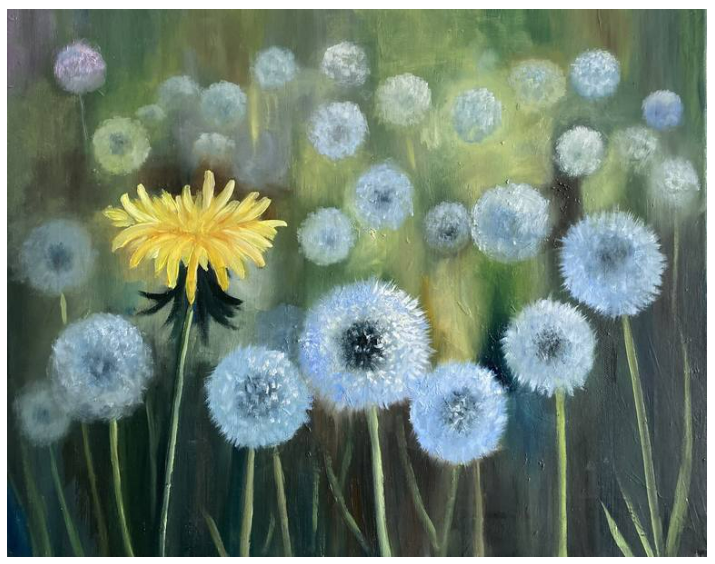 Dandelion is a symbol of happiness, joy, loyalty and devotion. Pictures with dandelions will bring good energy to any room, because happiness and joy are appropriate everywhere - in the bedroom, living room, bathroom, hallway, nursery, in the kitchen, in the office!
Frog on the stone Painting, 2020
Acrylic on Canvas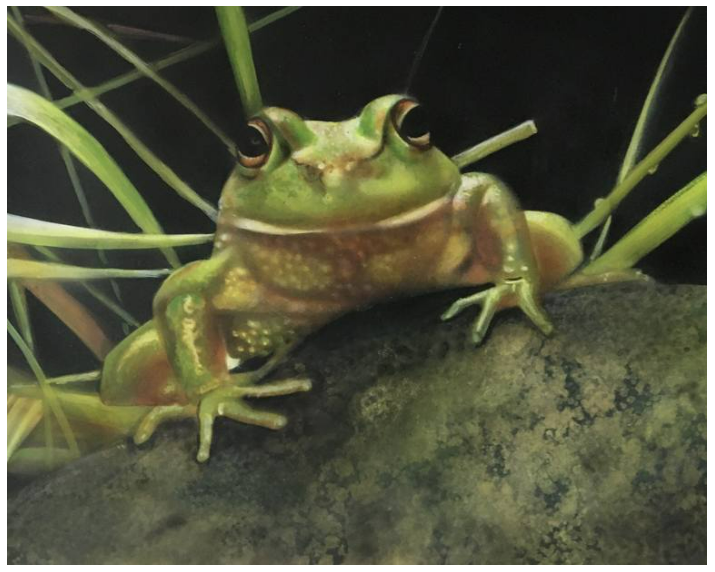 A realistic painting of a frog on the stone.
One-day project "Study of wild-life", made in Airbrush technique, using Holbein acrylic inks, Fine-Art Pencils of Derwent Inktense, Fabre-Castell Albrect Dürer Watercolour Pencils, Iwata MC on the 18x24 Ampersand Claybord.
I find frogs amazing creatures.
Reborn from a tadpole to a frog, the frog goes through almost thirty different stages of development. The frog is considered a chthonic animal and indicates the forces of origin of life. She is associated with the idea of creation and resurrection due to her cycles of appearance and disappearance.
Realistic portrait of a girl in blue, 2016
Acrylic on Canvas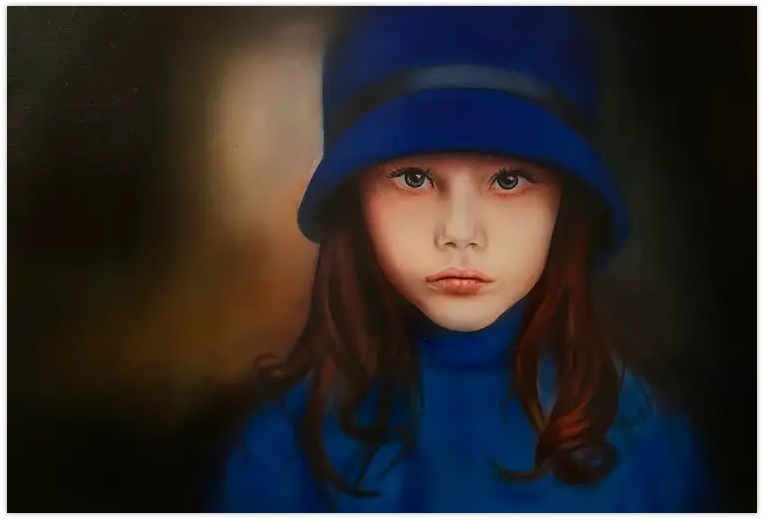 Hyperrealism. This photorealistic portrait is made using airbrush technique with Iwata MC pistol, Holbein acrylic ikns and Fine Art Pencils of Derwent and Watercolour Pencils of Faber-Castell.
Dolgor paints portraits from fotography in various techniques: pencils, airbrush, oil, etc
It is no secret when we go for a visit, for a birthday or jubileum, we are often faced with dilemma what to present. However, since ancient times, people have always appreciated their portraits made by the master's hand. These portraits are kept today, pleasing the eye not only of descentants, but also of all people.
Dawn, 2018
Acrylic on Canvas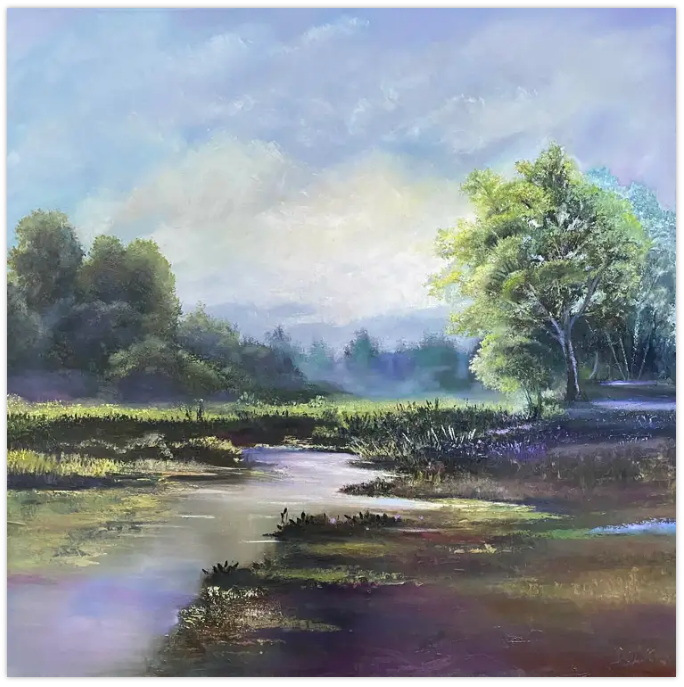 Warm summer morning. In the foreground is a quietly murmuring rivulet, hiding its beginning in the lush greenery of the grasses. The muddy bank of the river is framed by rare reeds and plants.
The ground is damp, it looks like it rained recently.
Further on, a wide green meadow opens up. Nature comes to life and awakens after a night's rest. Already here and there, the sun's rays have broken through, illuminate the trees and the river, forcing its waters to crumble into many tiny sparks.
And, if you look into the very depths of the picture, you can see the edge of the forest, hidden behind a grayish haze of morning fog. Trees in the fog seem to be ghosts, as if it is a mirage, which, if you approach it, will immediately melt.

And here is our old favorite piece from her collection. This painting was also included in the Year in Review post for 2019.
A forbidden fruit or a step to a new one?, 2019
Oil on Canvas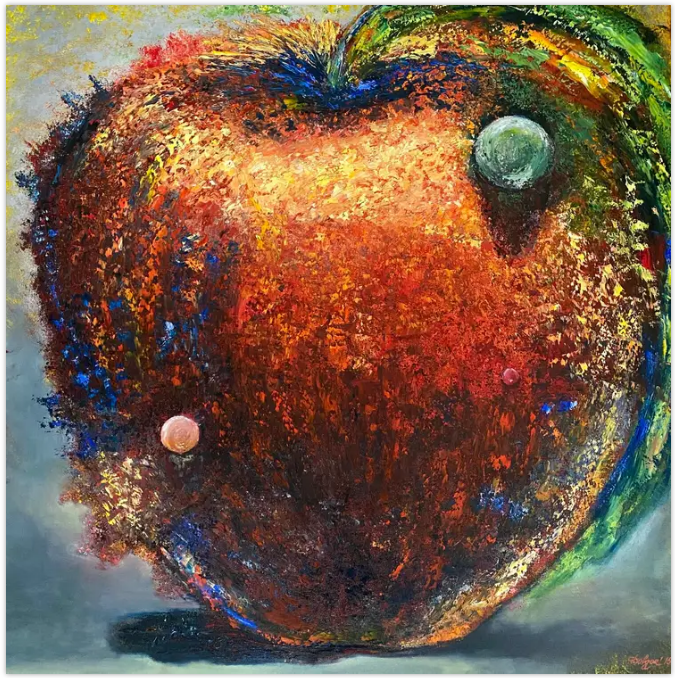 "Everyone sees his own vision in this apple:
it's a symbol of knowledge, immortality, temptation, or beauty, or the Fall of man and Sin or Choice... Choice - which gave rise to death.
Each person comes to a fork and decides which path to take. You can't go back, but you have to choose which road to take.
Or the choice is just an illusion, maybe in fact, here is no choice. Maybe in fact, at a certain moment, we can only act in a certain way?
Are we free to choose freedom or eternal life?
And have you thought about the time ?
Adam and Eve lived in paradise, ate paradise fruits ...
How long did it last? Year? Century? Millennium?
How many times have they passed this tree? Was there initially a desire to try? Did fear hold them back? Obedience? Abundance? Indifference?"