There are thousands of talented artists who deserve to be highlighted on Beebly's blog.
We are doing our best to find them all… for now take a look at this selection of artists who produced these interesting paintings in 2022:
1. Rieke Schmieder
Painter, Germany
"In my view fine arts, dance and music belong together."
Rieke is a professional artis and dancer. She has played the violin since she was 5 years old. She also enjoys quick portraits and body painting. Rieke participates in art events and teaches workshops regularily. She has developed her own artistic style keeping to the essence of what she calls "human light energy". She is a recognized artist who displays her paintings throughout Europe.
Sonnenuntergang an der Alten Elbe, 2022
Acrylic & Oil on Canvas
The artist lives in a small village near the Elbe. The landscape at the old arm of the river is beautiful.
This painting captures this romantic and beautiful mood of this nature.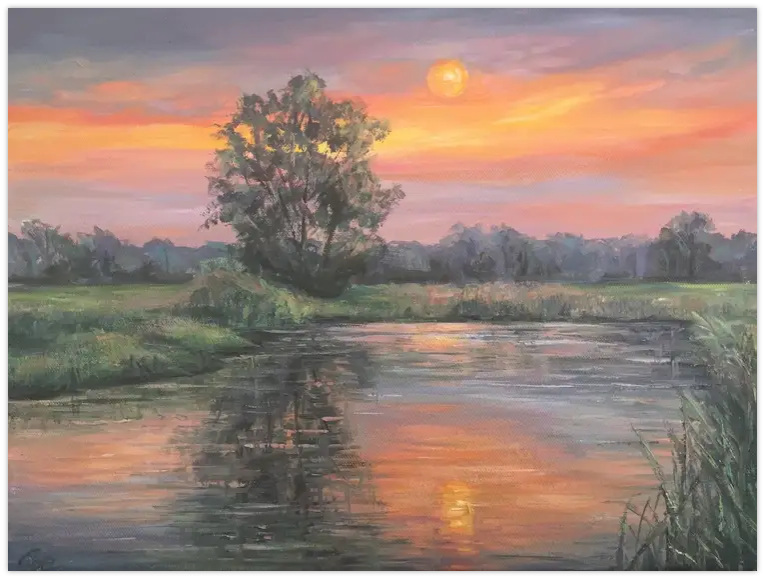 Urkräfte, 2022
Watercolor & Acrylic on Canvas
Whether one sees fire and water, the indigenous or the western world or male and female when looking at the picture: healing through the mutual acceptance of both forces, which tenderly touch each other on the nose, is the focus of this picture.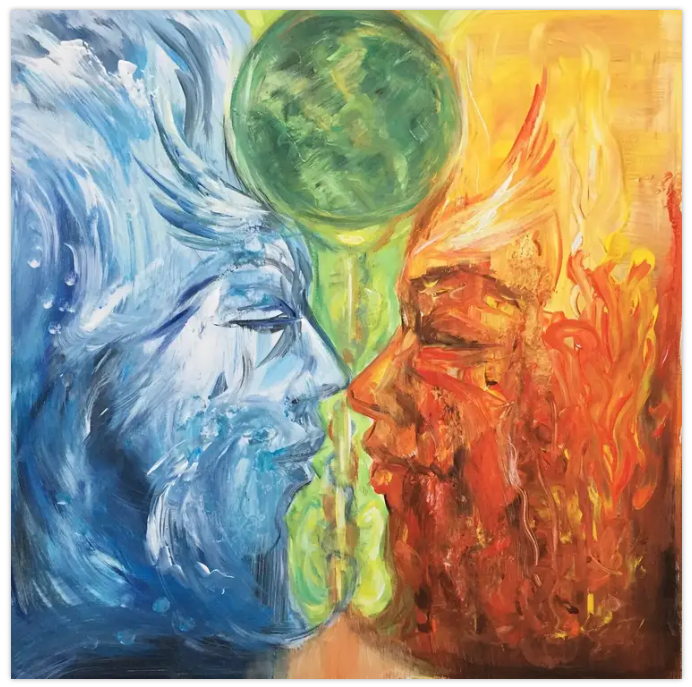 Mein Papillon III, 2022
Watercolor & Acrylic on Canvas
Butterflies express lightness and exhilaration.
The delicate background is also reminiscent of the kingdom of fairies and elves.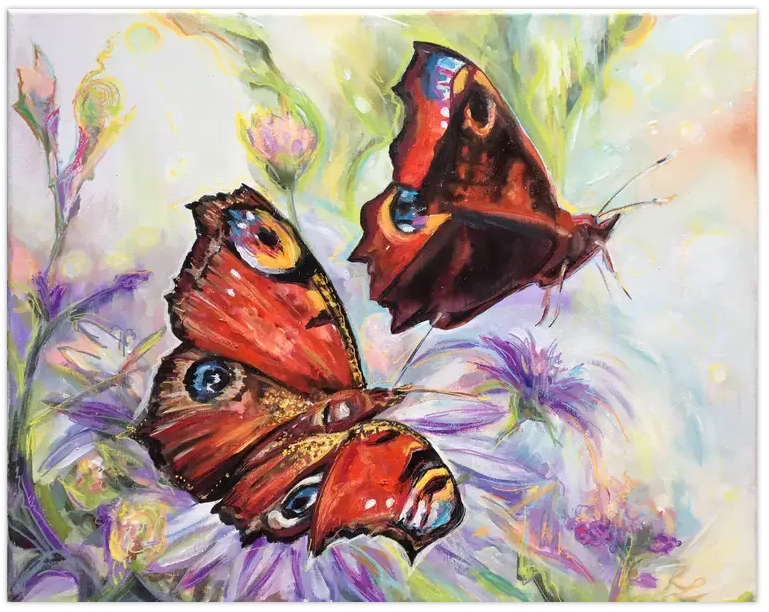 2. Sofia Battisti
Painter, Italy
"He who works with his hands is a worker, he who works with his hands and his head is a craftsman. He who works with his hands, his head, and his heart is an artist."
Sofia Battisti was born in 1987 and is based in Italy. Her paintings have been featured in several solo and group exhibitions. In her paintings she expresses her love of nature and animals. Using her animal subjects she explores difficult topics such as motherhood, the role of women in the world, pain, loneliness, and the feeling of inadequacy within society.
The fat cat dream, 2022
Acrylic & Oil on Canvas
"He is so calm and relaxed on his carpet decorated with oranges and blue leaves that you hardly notice the butterfly in his mouth. The feline is so overweight it's ridiculous, but he's not the only inhabitant of the canvas. Around him a luxuriant flora hosts a multitude of insects, all very busy."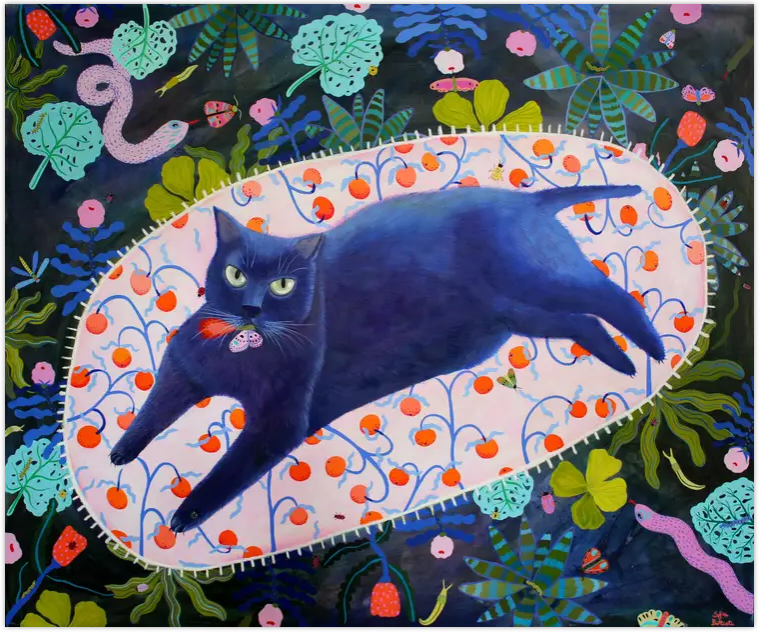 Farfalla sputa fuoco, 2022
Acrylic & Oil on Canvas
"This work with its symbolism wants to bring us back to the world of contrasts, forms and deceptive appearances, like a fragile butterfly that spits fire.
A fat cat licks its belly, is leaning on a table that also houses a composition of succulent plants with red, orange and pink flowers. Everything seems peaceful, fragrant and in harmony. There is only one small element that disturbs the stillness, it is a family of purple winged butterflies; they began to breathe fire at the plants and flowers. In this scenario the only one who is very angry is the black cat that seems to fall from the sky while defending its fur from the flames of the annoying insects."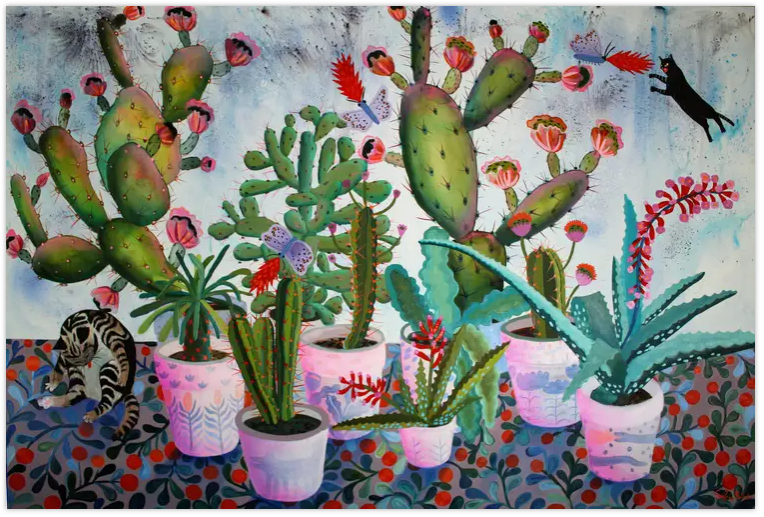 L'albero della cuccagna, 2022
Acrylic & Oil on Canvas
"A blue tree rises towards the sky and all its foliage seems to burst with life, many birds rest on the branches and various insects hide among the flowers.
At the foot of the tree the landscape changes, mice, flowers, plants, insects, and cats seem to coexist peacefully, but if you look more carefully, the cats are lurking, ready to bite the pet next to them. In the work the opposites coexist, possible killers and potential victims share their space among the colored flowers. The opposites coexist at the same time and in the same place, overlapping, like tragedy and celebration, life and death.
Often those who die and are eaten are the most fragile, beautiful and delicate animals!"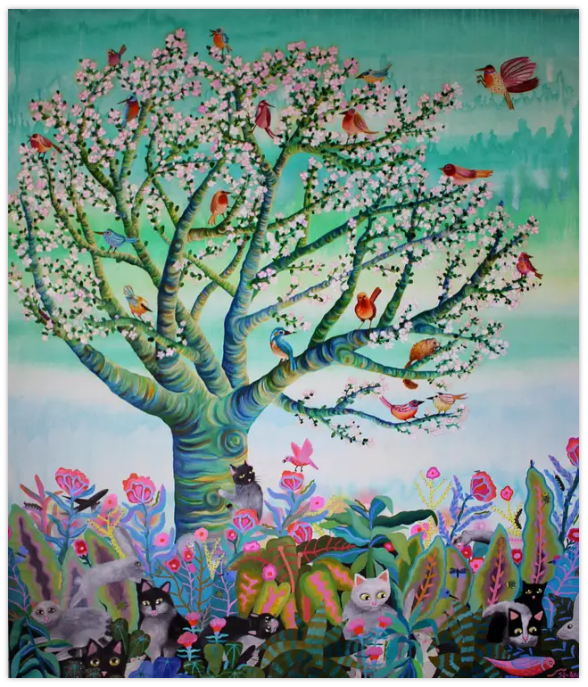 3. Khodakivskyi Vasyl
Painter, Ukraine
"It does not matter what is drawn, but it is important how it is done and what feelings are put into the picture."
Khodakivskyi Vasyl is a Ukrainian artist whose paintings have been shown internationally. He is obviously inspired by the old impressionists and does a wonderful job blending impressionism and realism to create truly magical paintings. Vasyl uses a variety of techniques, from brush rollers to palette knives.
Magic shadows, 2022
Oil on canvas
From a series of paintings with horses: walks, horse races, fox hunting.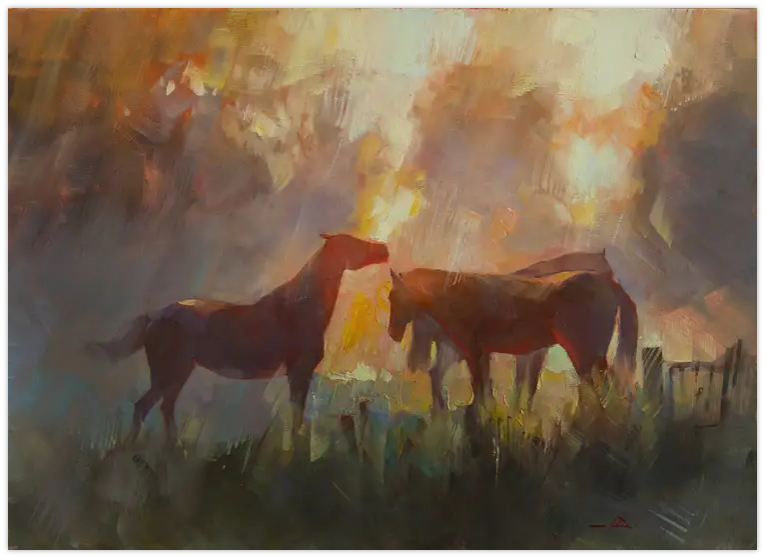 The salty breeze, 2022
Oil on canvas
"The first acquaintance with the sea is unforgettable.
The endless horizon, the cries of seagulls, a light sea breeze and an inner feeling of some kind of joy, excitement and desire to fly over this space."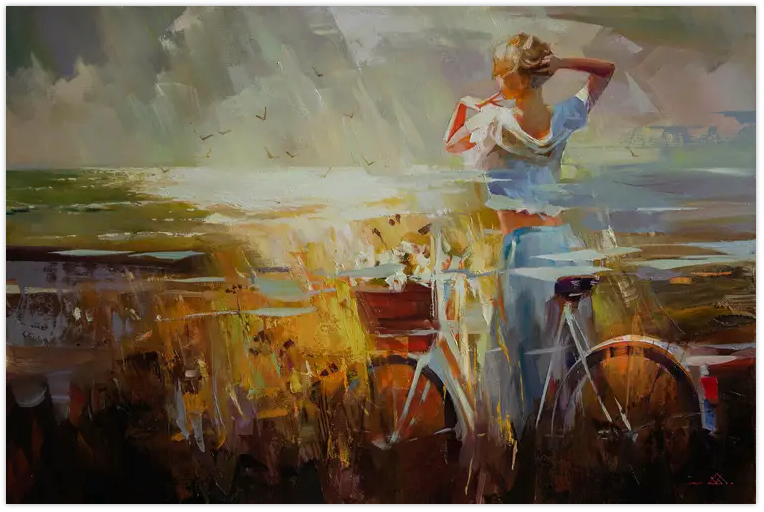 Pray, 2022
Oil on canvas
Pray.
This work is dedicated to the Ukrainian city of Mariupol,
its defenders and victims of the Russian-fascist invaders.