Got your dad Father's Day gifts but forgot the card? Just DIY with these easy watercolor painting techniques in today's lesson. Join us as we try Katrina's tips in creating a galaxy-themed Father's Day card!
Materials Used:
Fabriano Artistico Extra White cold press watercolor paper block (140lbs, 10" x 3 7/8")
Crayola Washable Watercolors, 8-count (or any watercolor paint of your choice)
Holbein Artists' Gouache (Permanent White)
Palette for mixing paint
A container with clean water
Paper towel
A round brush (no. 2)
Bone folder or credit card
Ruler
Mechanical pencil
Black gel pen
A piece of card stock, hard plastic, or any flat item with an edge
---
Step 1: Preparing a Father's Day Card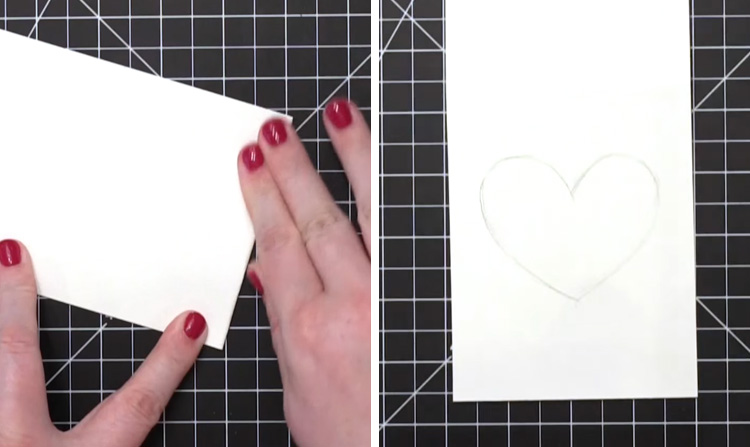 Prepare your Father's Day card by creating the card base. Make sure your watercolor paper is cut down to size, and use a ruler and bone folder (or the corner of a credit card) to score it down the middle, then press down on the fold with your fingers to flatten it. Lay the paper down flat, and sketch a heart in front. You can do this freehand or use a stencil to keep your lines neat. When erasing pencil lines, do so gently to avoid damaging the paper. The heart will be the base for our watercolor painting today, but feel free to use any shape you like!
---
Step 2: Painting a Multicolored Galaxy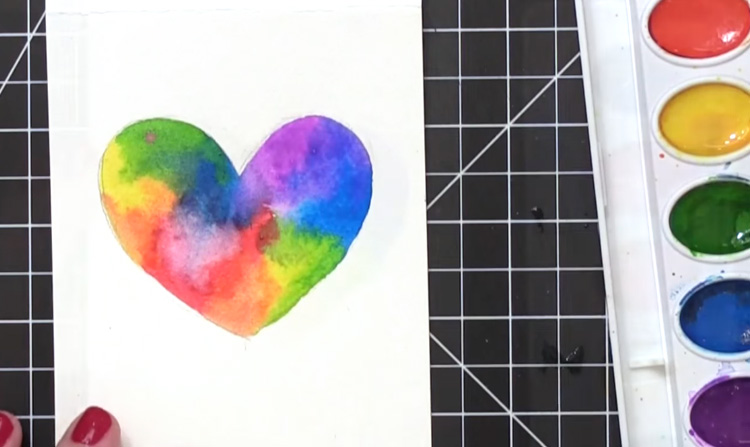 This is where we start adding color, so ready your watercolor painting tools, folks! Take a no. 2 round brush and add water to the red pan until your brush is loaded with paint. Now lay the color into a small section of the heart, working via the wet-on-dry technique (i.e. adding wet paint to a dry surface). Continue filling up the heart by dropping in Orange, Yellow, Green, Blue, and Violet. Strengthen the colors by using the variegated wash technique to add more pigment to the wash while it's still wet. In the end, you'll produce a neat, multicolored wash with soft edges. Pro tip: when adding colors, try to put them beside colors that they are next to on the color wheel. For example, put red next to orange or violet. This will create a more natural effect when the colors blend into each other. With that in mind, avoid putting complementary colors (like red and green) next to each other. These colors tend to neutralize each other when they are combined, so the resulting mixture they create becomes a muddy gray. Use a paper towel to lift excess paint, then allow your watercolor galaxy to dry completely before moving to the next step.
---
Step 3: Capturing the Darkness of a Galaxy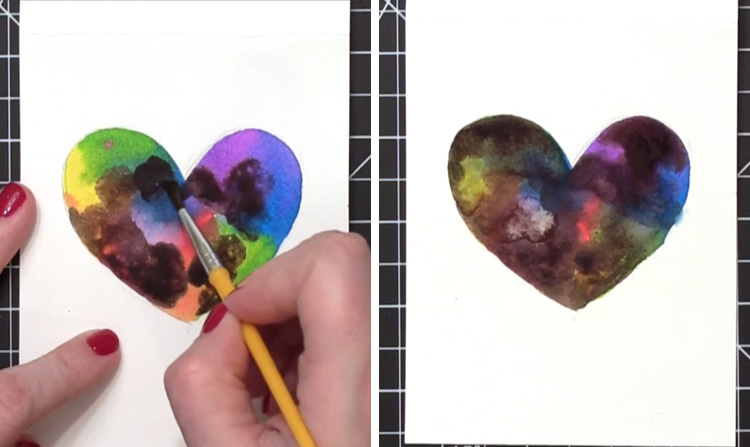 Rinse out your brush and load it with black paint. Use a circular motion to apply it over the colorful galaxy, covering up most of the colorful first layer. Use water to vary the value (i.e. how light or dark a color is) of your black in order to keep things interesting; allow some sections to be dark while others can be somewhat transparent, as if you're painting black clouds. You can also use a paper towel to lift parts of the wet paint to achieve this look.
---
Step 4: Using Backwashes in a Watercolor Painting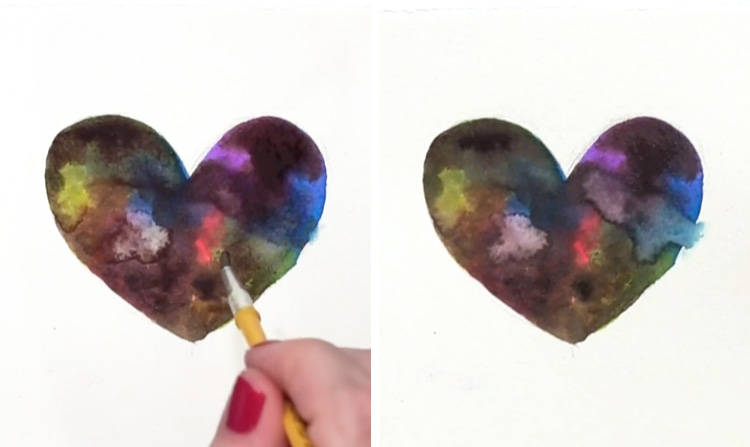 Backwashes, or blooms, are normally something we try to avoid in watercolor painting. For this Father's Day card, however, it's one of our featured easy watercolor techniques! To create a backwash, the black layer should be partially dry. Load your round brush with clean water and strategically add drops of clean water on top of it. These newly wet areas will dry slower than the rest of the painting, causing them to push back the dry paint around them. The result is a cool texture that gives this Father's Day card extra character!
---
Step 5: Erasing Mistakes With Water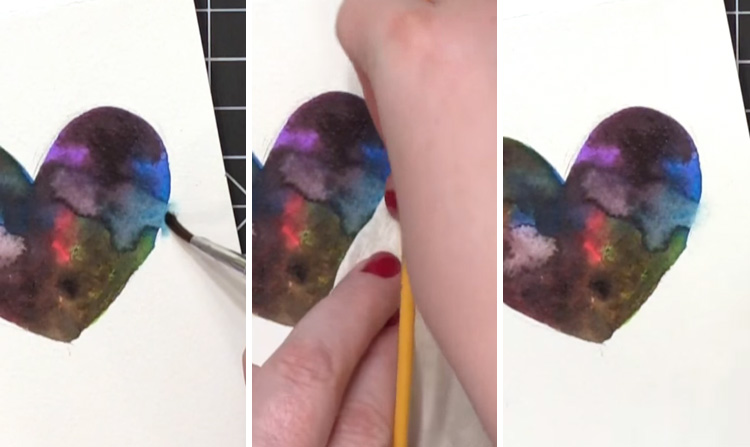 If your paint spills out of the heart shape, here's how to fix it: Load your brush with clean water and apply it over the spilled paint to reactivate the pigment. Next, dab a paper towel over the area to lift the reactivated paint. Repeat these steps 1-2 more times to clean up the mistake. Be mindful of the paper as you do this because too much scrubbing can damage the surface of your watercolor paper. Also remember that your paper won't be as white as it was before you added paint; some colors stain the page more strongly than others.
---
Step 6: Adding Stars to the Galaxy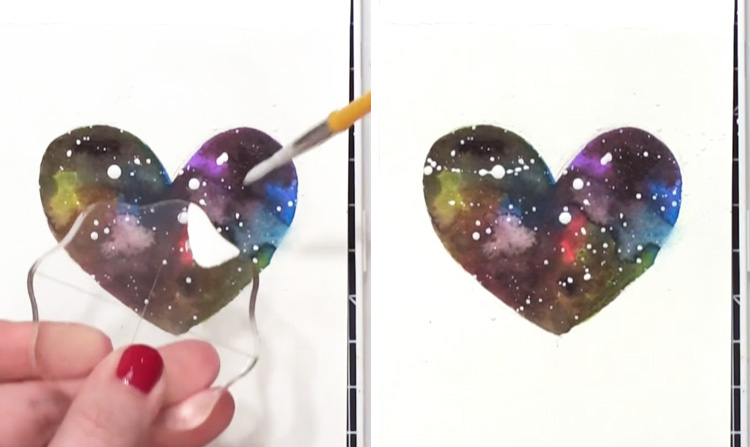 Prepare Permanent White gouache paint by mixing it with water until you achieve a milky texture. Take a piece of card stock or plastic (or a similar item with an edge) and use your brush to add white paint to the edge of the item. Now hold the card over your watercolor painting and flick the paint off the card with your brush. This is one of many spattering techniques, and it's a quick and easy way to add random dots - or stars, in this case - to your watercolor galaxy.
---
Step 7: Writing A Warm Greeting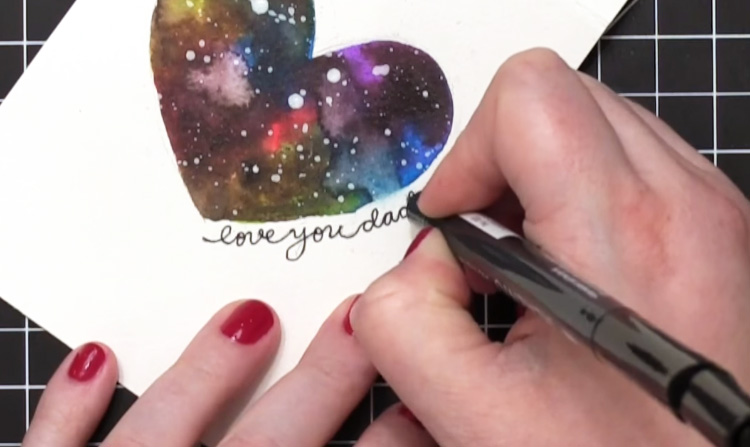 For the final step, use a pencil to write a simple message or greeting to your dad. Go over it with a black gel pen and wait for the ink to dry completely before erasing the pencil lines.
And that's it! We hope you enjoyed making Father's Day crafts with us in this lesson!
If you'd like to watch Katrina in action, here's her video: