Learn how to add a splash of color for any crafting project just from painting an easy watercolor background! In this tutorial, we follow Nicole Picadura and make use of the wet-in-wet technique to create a DIY sentiment card.
Materials used:
Bee Paper Company 100% Cotton Watercolor Paper (6" x 9", 140lb)
Paper Cutter
WPlus9 Dream Believer Stamp Set (product no. CL-WP9DRBE, or any similar sentiment stamp)
Tsukineko VersaFine Onyx Black Ink
WOW Embossing Powder: 15ml Clear Gloss Super Fine
Any heat gun, a.k.a. heat tool or hot air gun
Wooden board
FrogTape 280220 Delicate Surface Painting Tape, 0.94" width, yellow
Pretty Pink Posh Sequins: 4mm Cupped, Metallic Silver & Sparkling Clear
Pretty Pink Posh Sequins: 6mm Cupped, Sparkling Clear
Tweezers
Neenah Paper: 4456 Neenah Classic Crest Cardstock (8½'' x 11", 110lb)
3M Double-Coated Urethane Foam Tape (½" width)
Ranger's Multi-Medium Matte Glue
Nicholson's Peerless Transparent Watercolors
Forget-Me-Not Blue
Butterfly Wing Blue
Deep Blue
Cobalt Blue
Peacock Blue
Brushes
MyArtscape Long Handle Paintbrushes: Flat brush (no. 14)
---
Step 1: Stamp the Sentiment on Your Watercolor Paper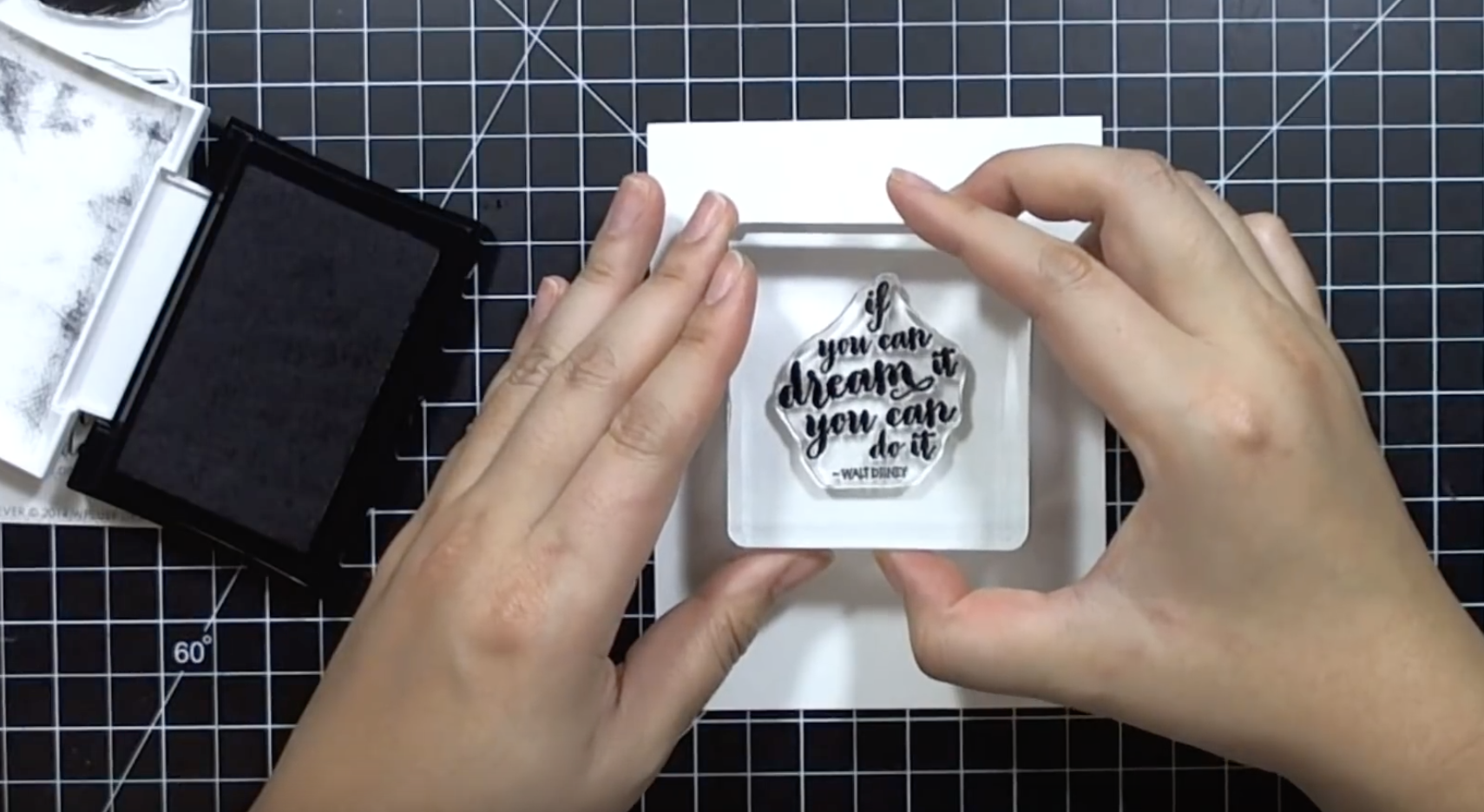 Start by cutting a sheet of watercolor paper in half (i.e. 6" x 4½"). You can adjust the size depending on the stamp you use. Speaking of the stamp set, choose the quote you would like to use from the WPlus9 Dream Believer Stamp Set. It can actually be any quote you like, from any stamp set you prefer.
For this tutorial, the artist chose Walt Disney's quote: "If you can dream it, you can do it." Mount the sentiment on a clear acrylic block before using, and make sure you get enough ink on it before stamping firmly onto your watercolor paper.
---
Step 2: Embossing the Sentiment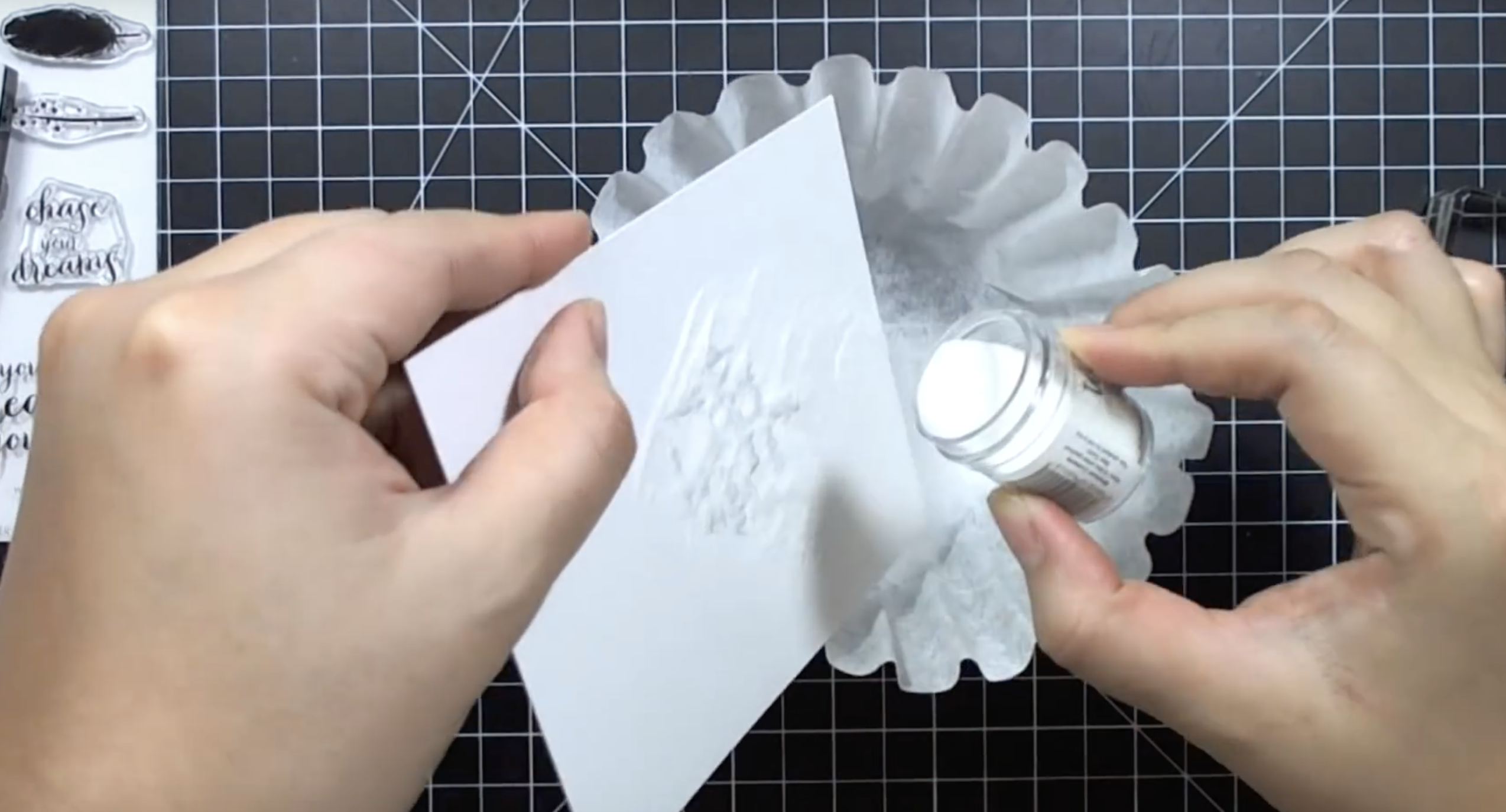 Pour a bit of the embossing powder over your quote. After warming up your heat tool for about 20 to 30 seconds, you can then use it to set your sentiment onto your watercolor paper.
This will give your sentiment a glossy, raised effect. And it will definitely add dimension to your card and make it even more interesting.
If you feel like adding more elements into your handmade card, the Dream Believer stamp set also has a couple of those available. Here, the artist decided to stamp some dots around her quote.
---
Step 3: Wet-in-Wet Technique for a Watercolor Background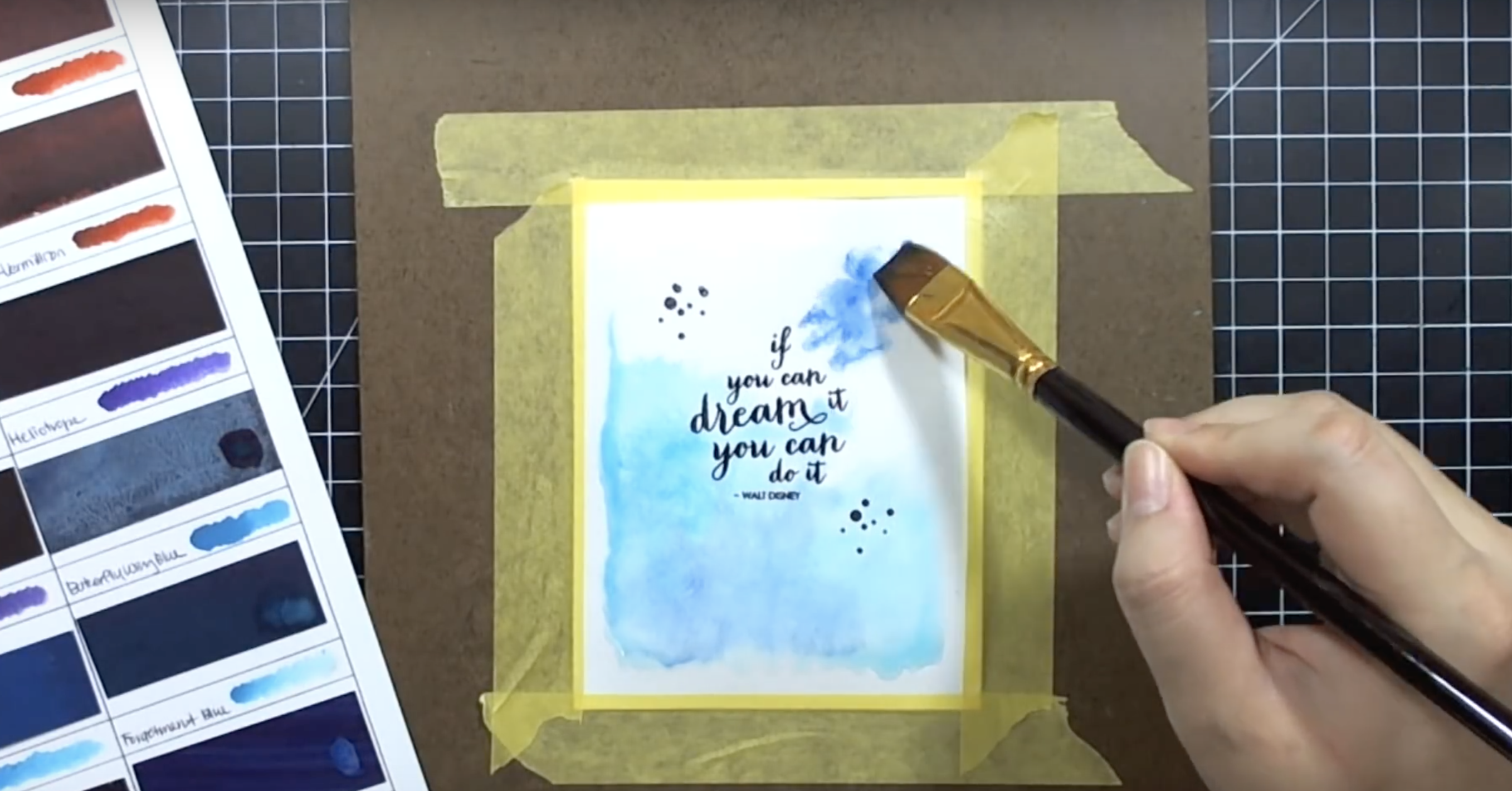 For the next step, you will be doing a watercolor background. Start by securing your card onto a wooden board or hard surface using painter's tape. This will help prevent the paper from buckling. Using a flat brush, brush clean water onto your card to start the process of creating your background.
The wet-in-wet technique is one of the most basic watercolor techniques you can use, and it's perfect for our crafty project today. Remember, for this technique, you must let the paint move freely on the wet surface for the best results. Nicole uses a variety of blue watercolors to create this beautiful blend of colors, but you can use any 4-5 colors you like, as this technique will blend the colors for you.
It might look a little messy at first, but once it dries you'll see the amazing outcome of such a simple watercolor technique. Just make sure not to mix too many different colors at the same time though, as you don't want to end up with a muddy mixture!
---
Step 4: Allow Your Watercolor Background to Set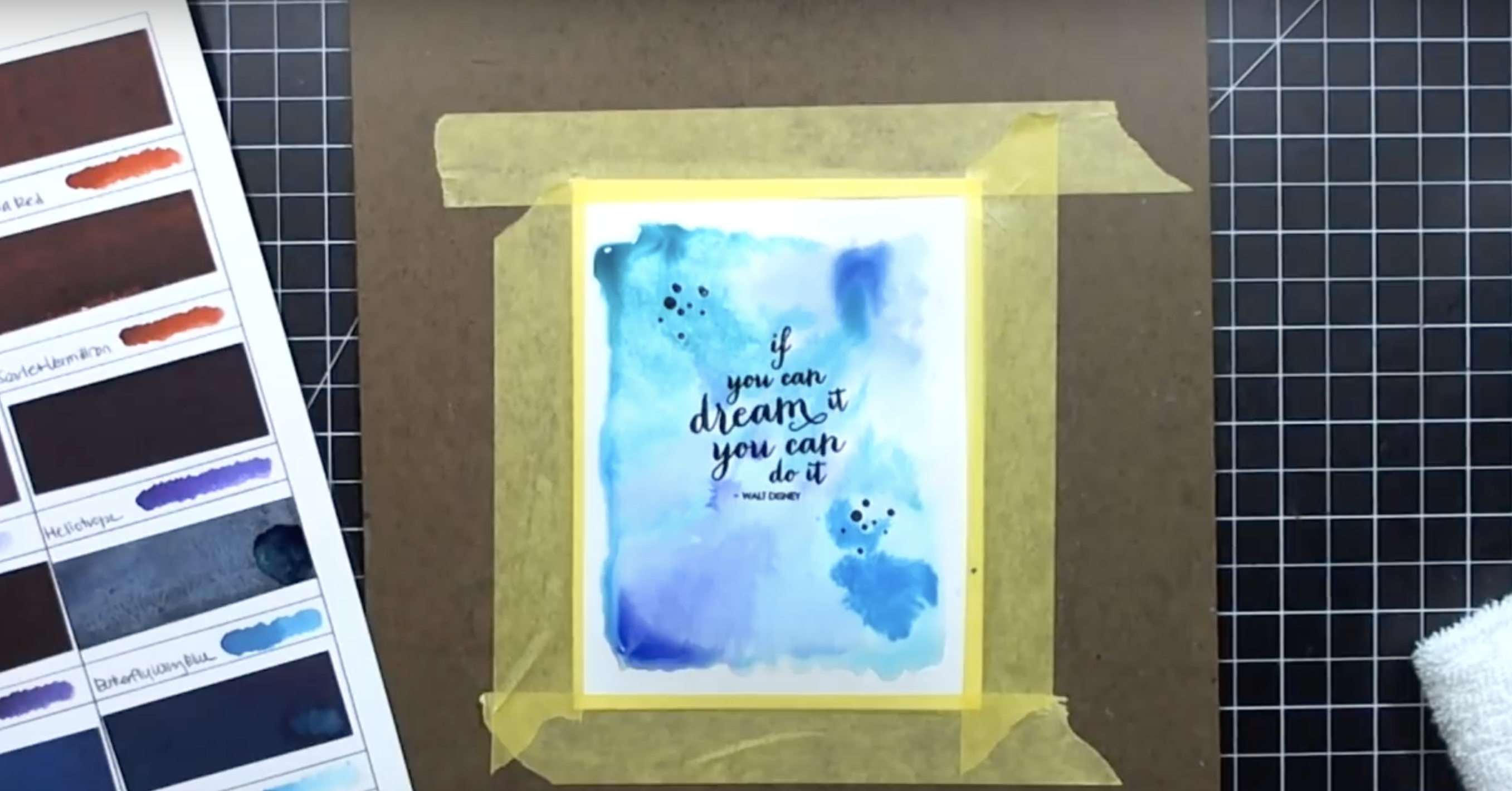 The great thing about the wet-in-wet technique is that you have the option to add more colors or lift some excess paint as you let the paint dry. And speaking of paint, just keep in mind that it dries into a lighter shade of color compared to when it's wet.
So if you want a more opaque and vivid watercolor background for your card, be sure to use more saturated paint mixtures. Once you're happy with the amount of paint and how it's settling on your card, give it around 15 minutes to completely dry.
---
Step 5: Add Layers to Your Card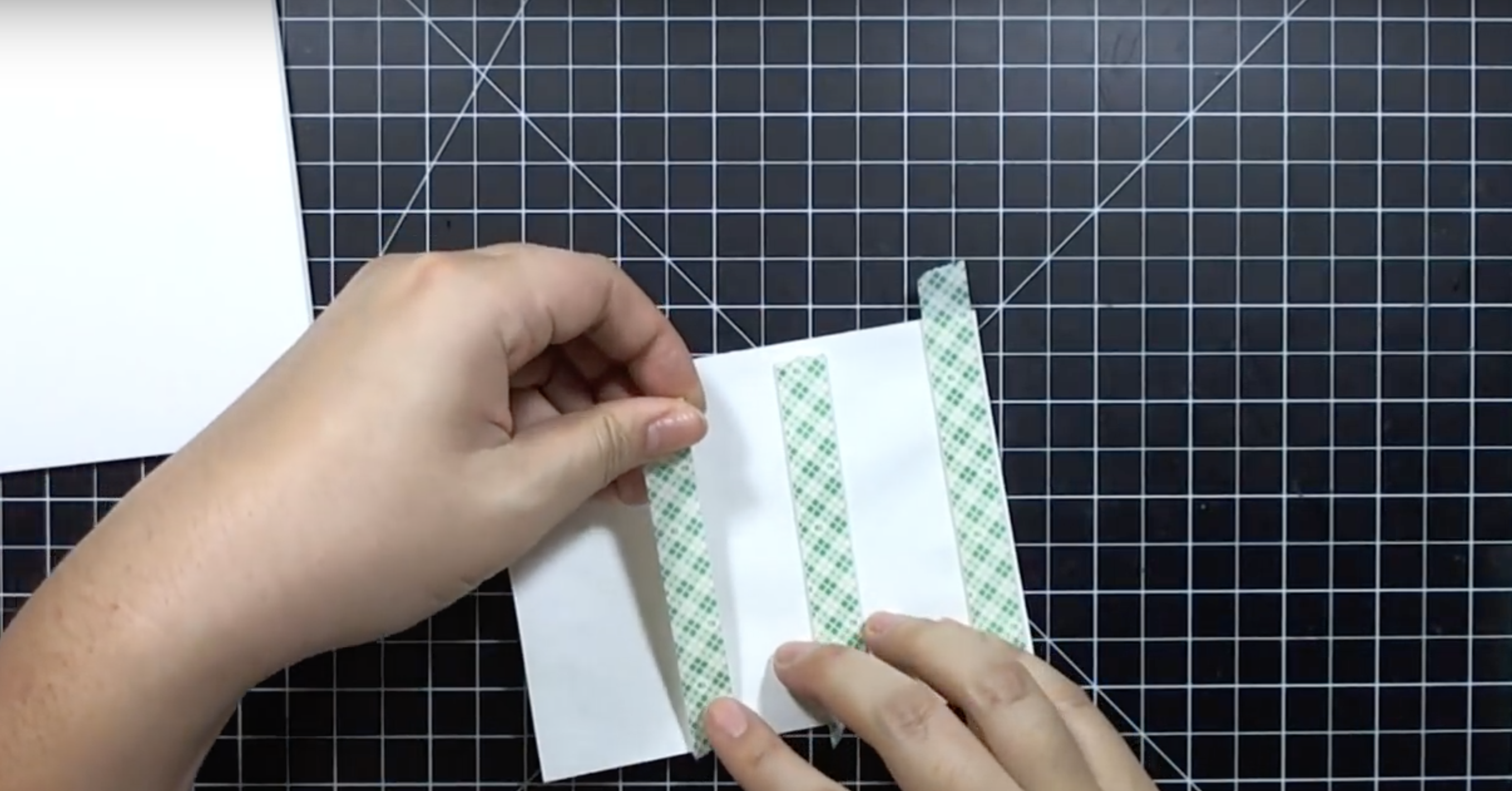 At this point, you want to start adding finishing touches to make your quote really pop. To do this, you can add another card layer to add depth and to avoid having the paper warp.
Use the Neenah Paper Card Stock for the base, and use double-coated foam tape to stick your sentiment to this base.
---
Step 6: Finish Off With Sparkly Sequins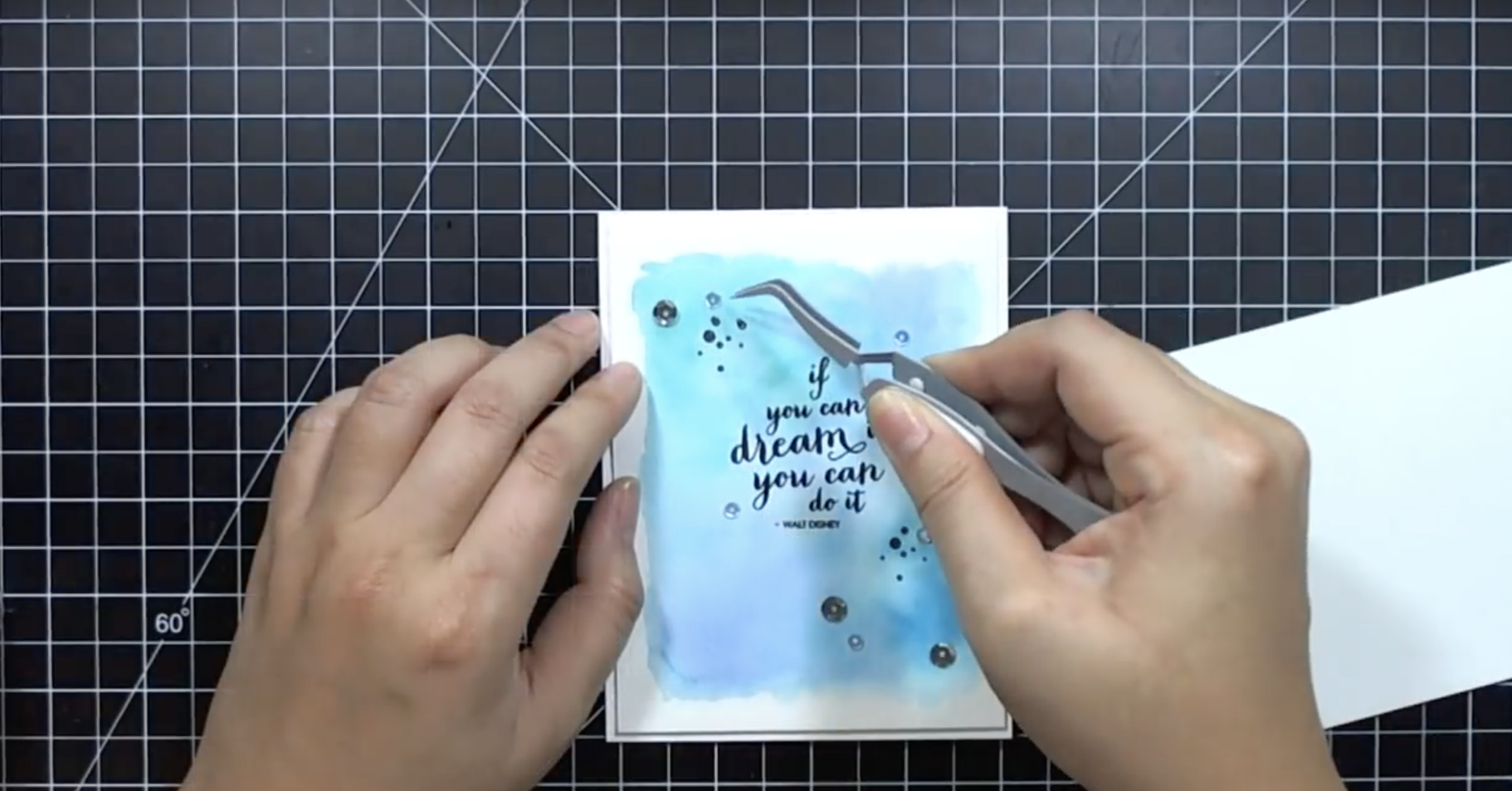 To add a bit of sparkle to your craft project, glue some sequins around the stamped areas. For a clean look, use tweezers to pick each sequin up individually, spread some glue on the back, and place them on your card.
Once these additional sequins are stuck, you are done!
These sentiment cards are great for display, or can even be great gifts for friends and family.
For the video version of this tutorial, check out the video player below: