The world of watercolor painting is not only full of fun and surprises, but the best surprise is in discovering the many easy painting ideas to achieve the most wonderful works of art. Here's a fun watercolor painting activity from watercolorist Jay Lee, who uses bubbles to create unique watercolor backgrounds.
Materials Used In This Watercolor Lesson:
Paper cups
Water
Dishwashing liquid soap
Plastic straws
Brown sugar
Saunders Waterford hot press watercolor paper (140lbs, 9" x 12")
ShinHan Professional Watercolors
Permanent Yellow Light
Red
Red Violet
Opera
Sap Green
Cobalt Blue Hue
Violet
---
Step 1: Prepare Your Materials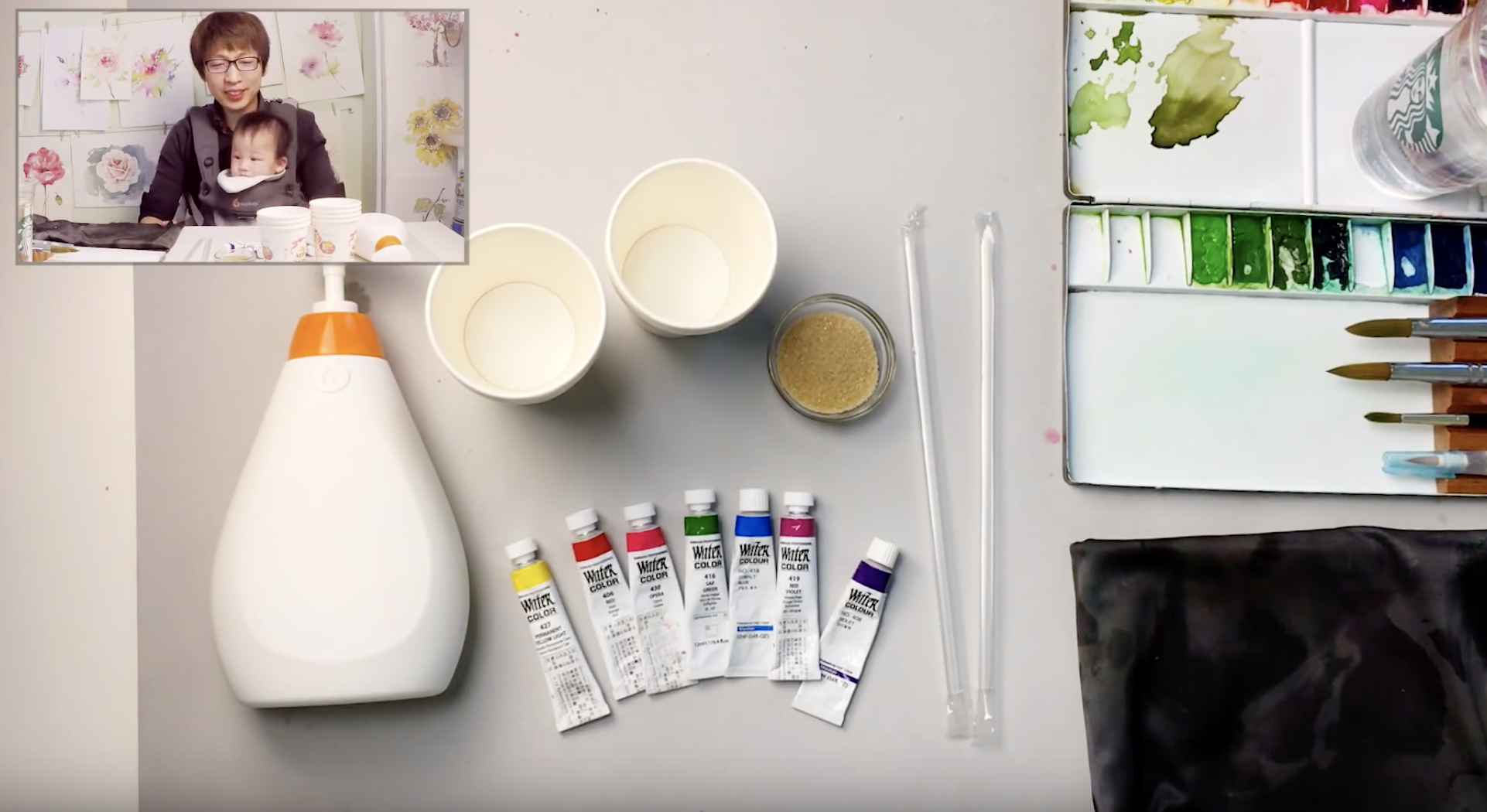 For this particular lesson of easy painting ideas, you're going to need some paper cups and straws. You'll also need a bottle of dishwashing liquid soap and some plastic straws handy to blow some colorful watercolor bubbles. This tutorial also involves brown sugar, which will serve as an agent to help make longer-lasting bubbles. The more bubbles, the more fun! Lastly, you'll need some 
watercolor paint
. You can pick any colors you want, but here, Jay uses Permanent Yellow Light, Red, Red Violet, Opera, Sap Green, Cobalt Blue Hue, Red Violet, and Violet.
---
Step 2: Add Paint to the Water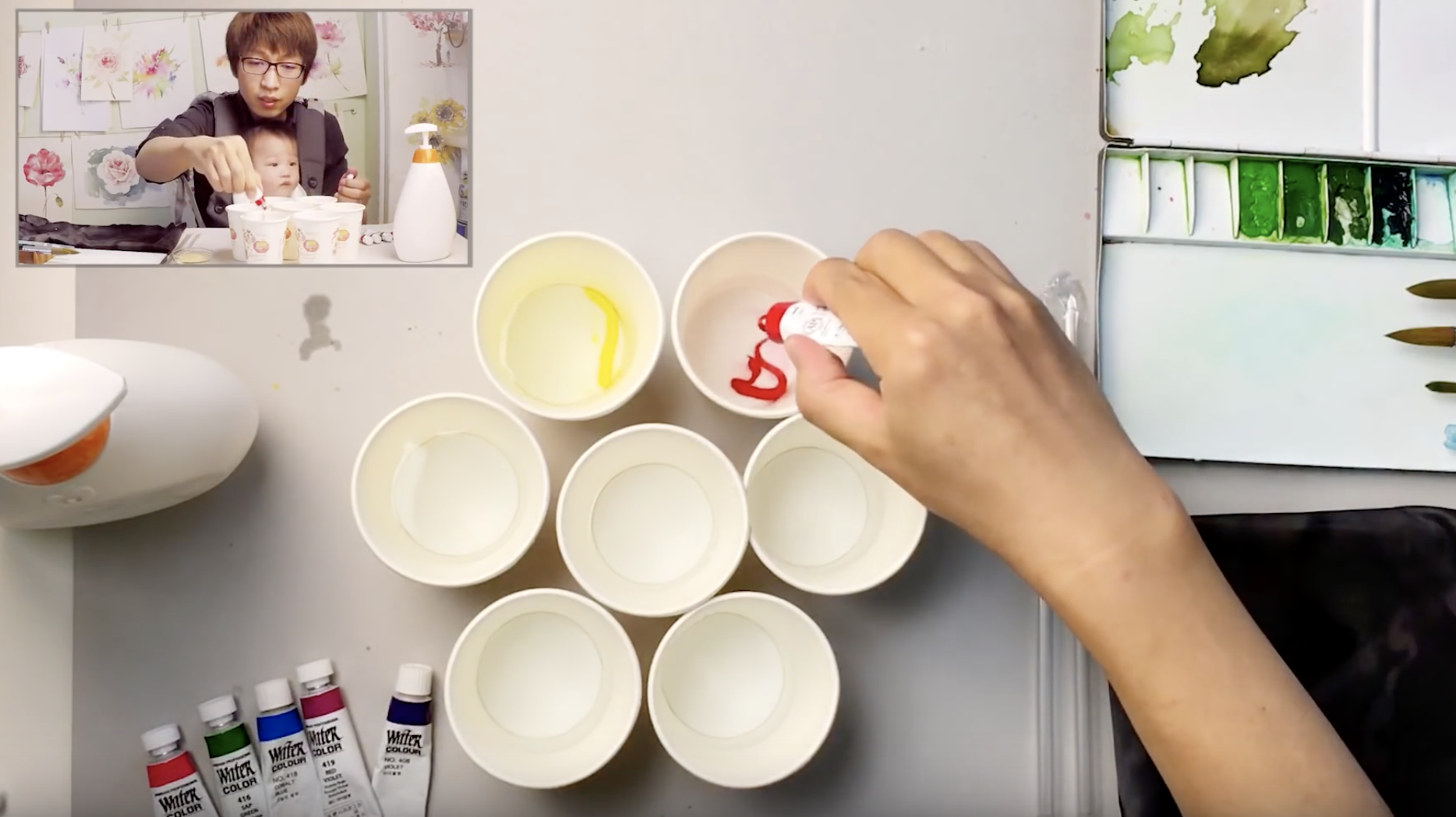 Arrange your paper cups and fill them with water. For every color that you will use, you need a paper cup for each one. In this tutorial, the artist used seven colors, which is why there were seven cups prepared. Squeeze a generous amount of watercolor paint in each cup, letting it settle inside the water. Repeat this step until it's done for all the different colors you want to use.
---
Step 3: Add Dishwashing Liquid Soap and Brown Sugar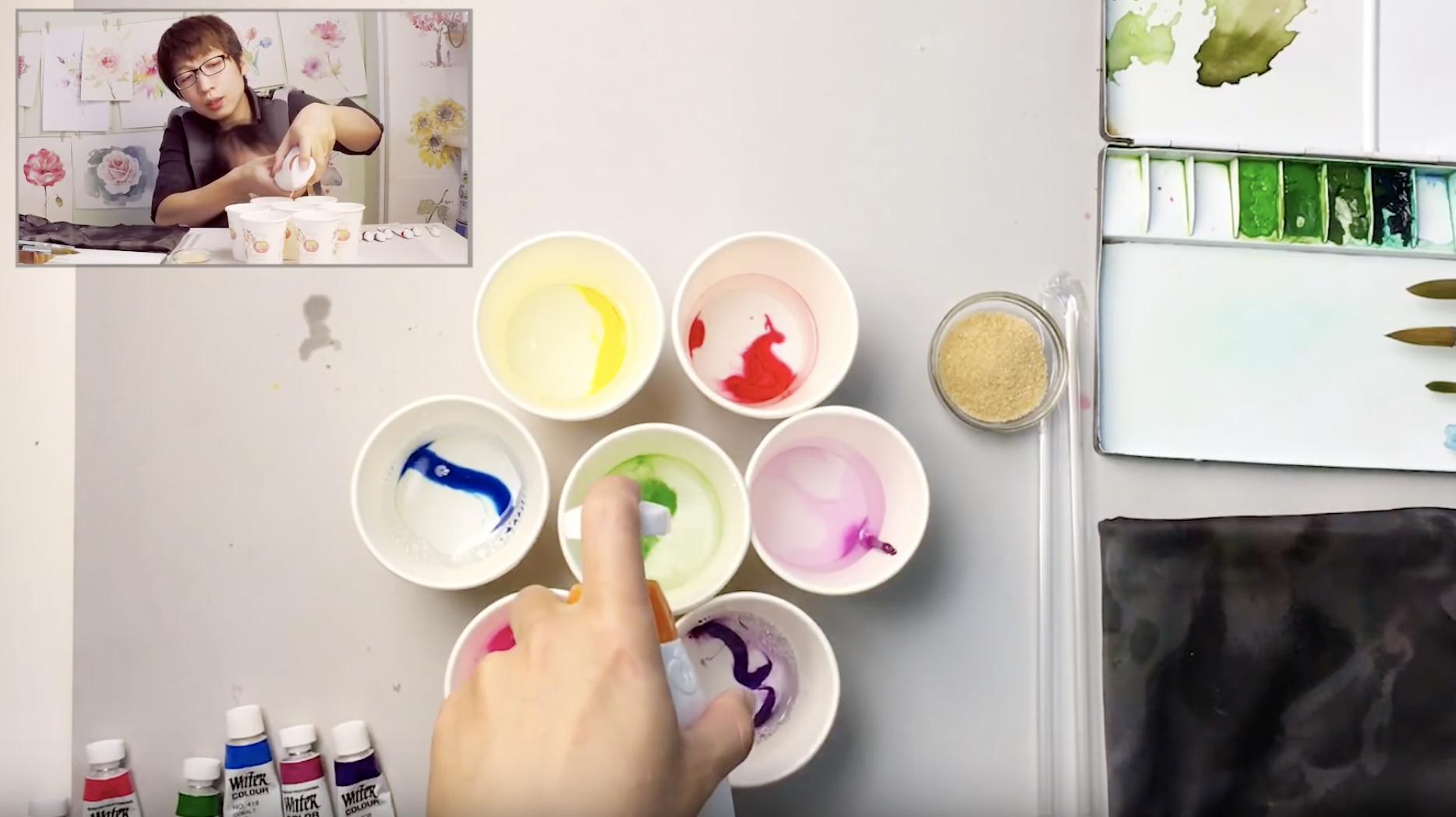 Next, add some dishwashing liquid to each cup. One quick pump per cup should do. Once that's done, add a pinch of brown sugar to each cup as well. Mix the contents of each cup by stirring with a plastic straw. Both additives will help you with creating a good 
texture
in this fun watercolor technique. The soap will help you make the bubbles, while the sugar will make the bubbles last longer.
---
Step 4: Blow Bubbles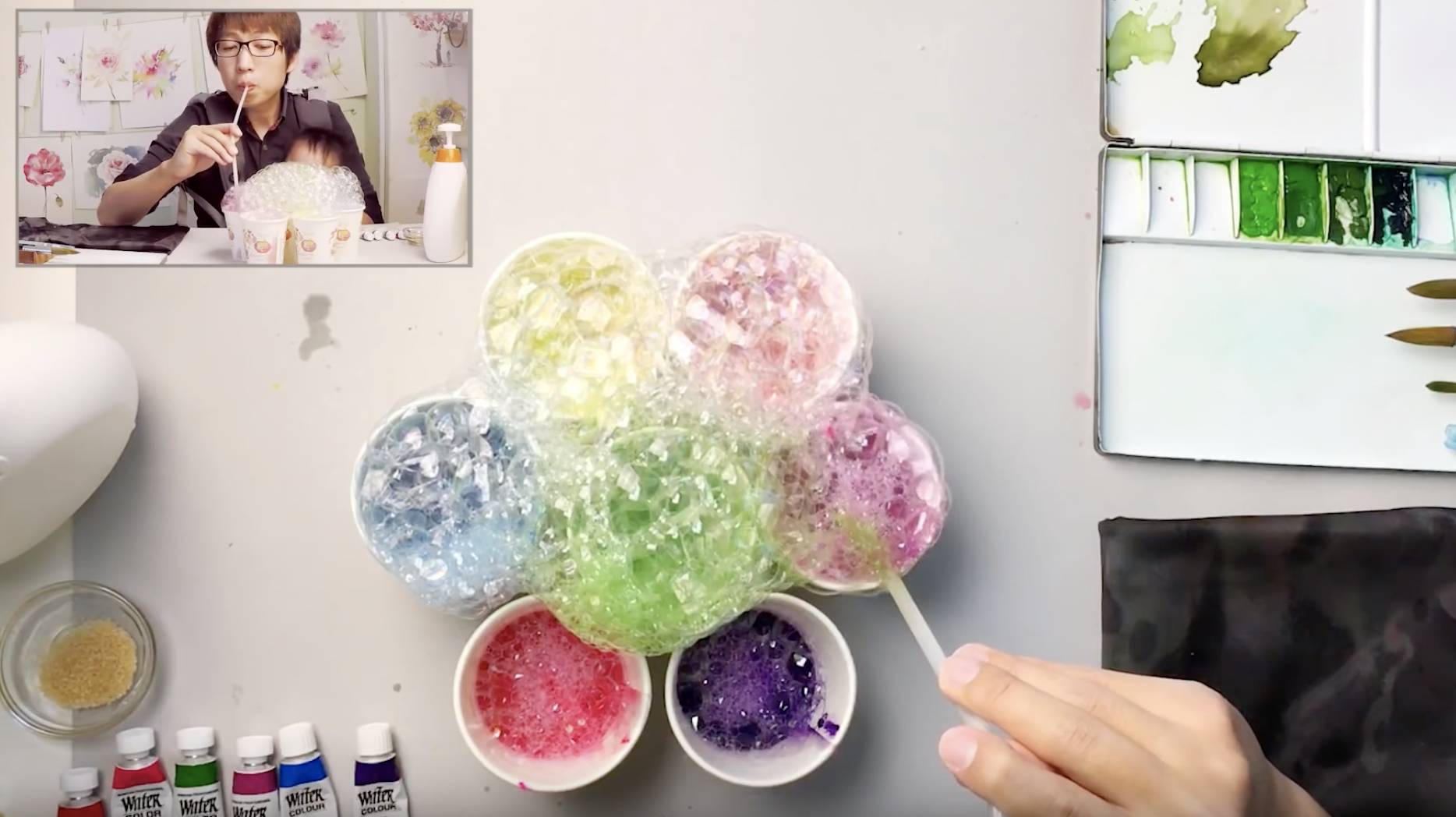 Once your concoctions of water, paint, sugar, and dishwashing liquid are ready, you can now start creating some bubbles! Using your plastic straws, gently blow into each cup. Be careful not to sip the contents of the cup, though! You'll notice the bubbles will start rising the more air you blow into the cup. If you have any kids with you, this will be a great time to have them watch, or even join in the fun. Throughout the process, feel free to blow more bubbles whenever the bubbles start to subside. Just try not to overdo it, or you'll end up with a big mess!
---
Step 5: Catch Those Bubbles With Paper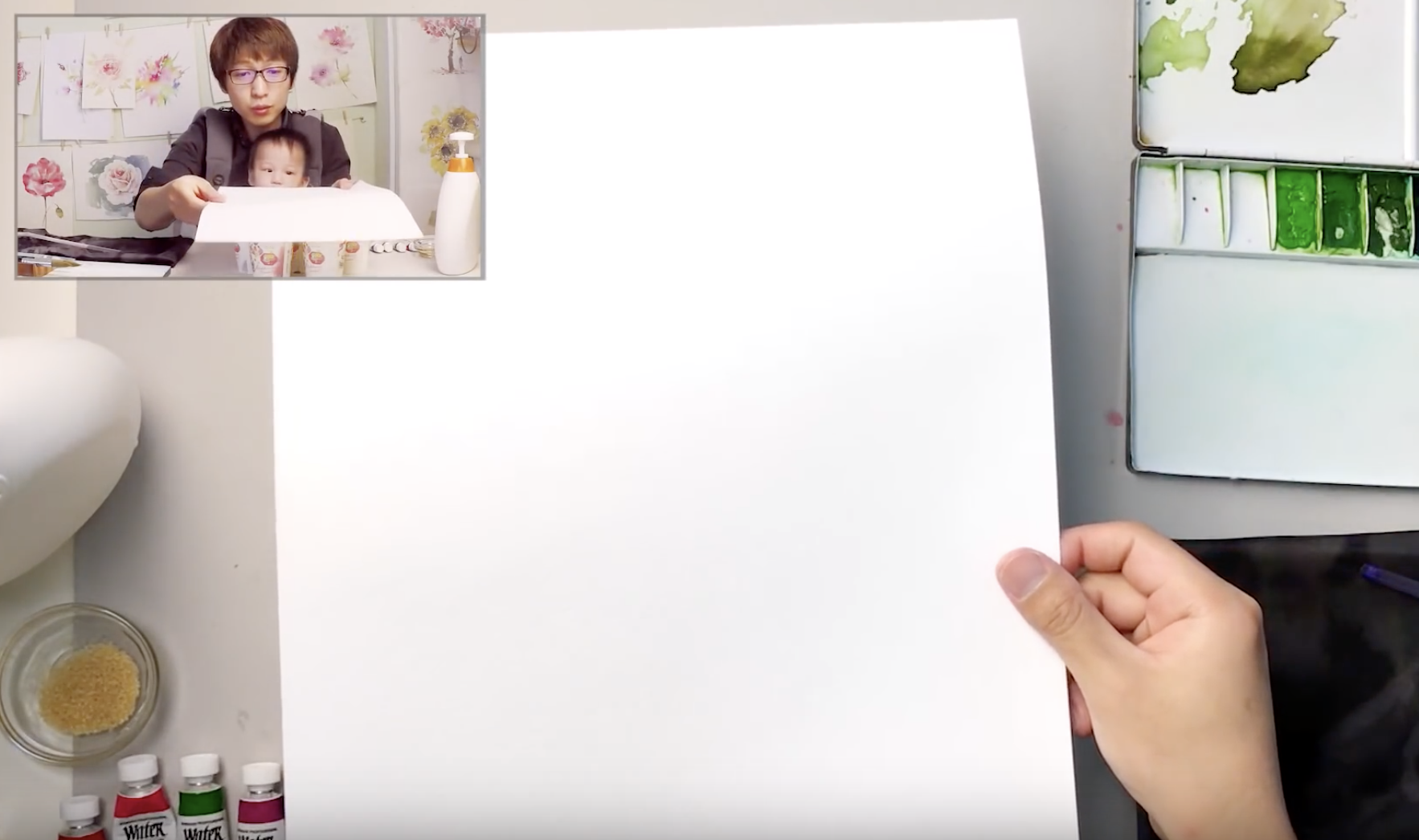 Gently place your
watercolor paper
on top of the paper cups filled with bubbles. The paper will "catch" your bubbles for you, instantly creating a beautiful textured background for your watercolor painting. You can even add more layers to further enhance and experiment with your art. Take note of areas or sides where you can put more of the bubbly paint in your next layers, and adjust how you position your paint onto the paper. The more watercolor bubbles pressed onto your paper, the more
abstract
and bubbly your painting will look once all the colorful hues blend and settle.
---
Step 6: Share the Fun by Experimenting With Easy Painting Ideas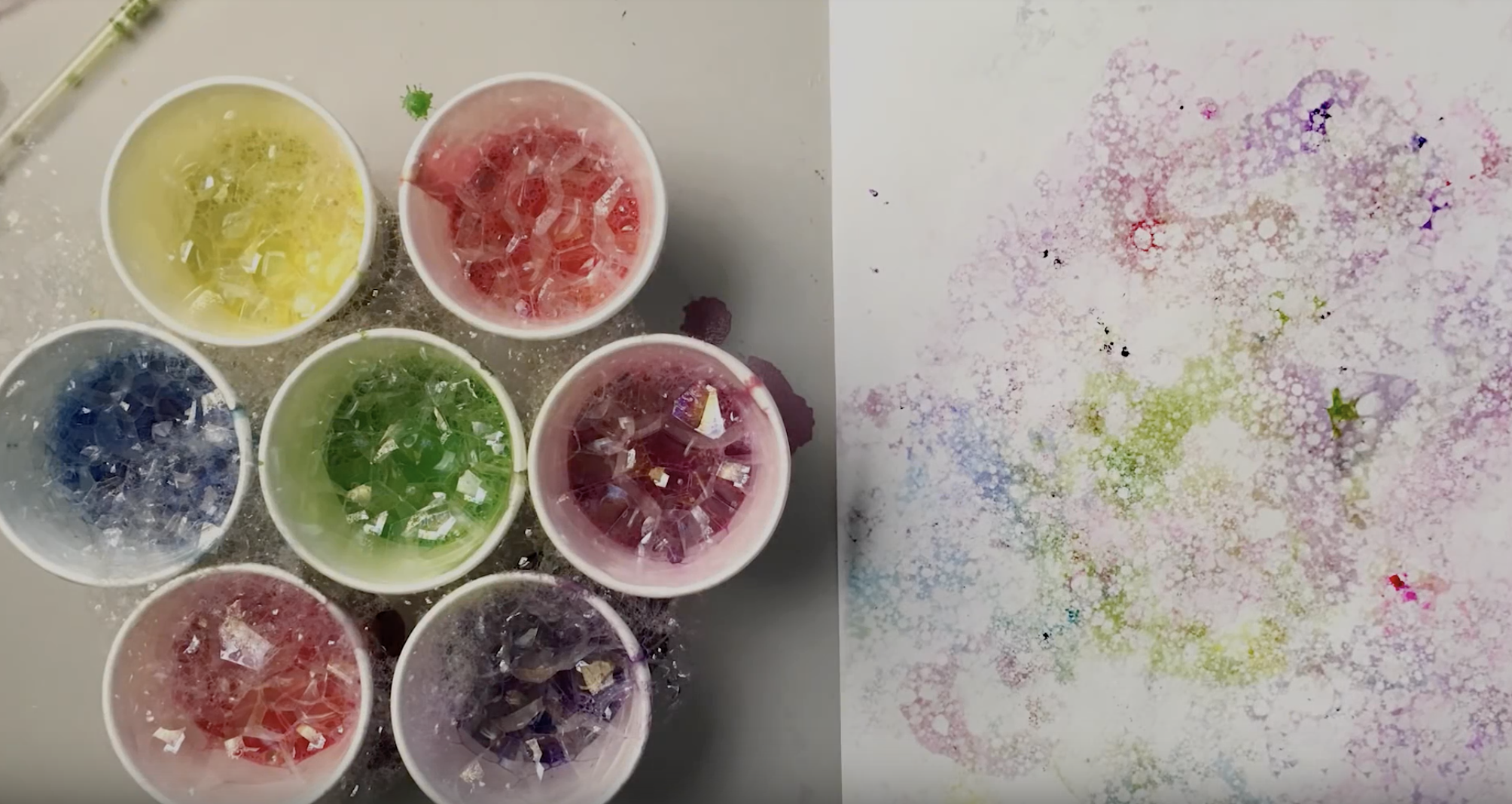 The best part of all easy painting ideas is that it's better when done in the company of other people, especially kids! In this tutorial, you can see the artist, Jay, is with his son. It doesn't get any easier or more fun that! And what you get is easy, modern art that would great to use as a background or even just as a stand-alone watercolor painting activity. You can check out the video tutorial below and see how Jay created his easy watercolor bubble painting: