American Watercolor Master
Dong Kingman left the world a legacy of visual happiness.
His unique role in the development of American art through the medium of watercolor over the past half-century involved a thorough intertwining of Eastern and Western artistic sensibilities that inspired peers on both coasts to look through new eyes. His colorful, ofttimes whimsical, paintings fused studied elements of realism, cubism, abstract, surrealism, and impressionism into joyous displays of imagination uniquely constructed on the fly, all based on en plein air paintings and sketches made on location all around the world.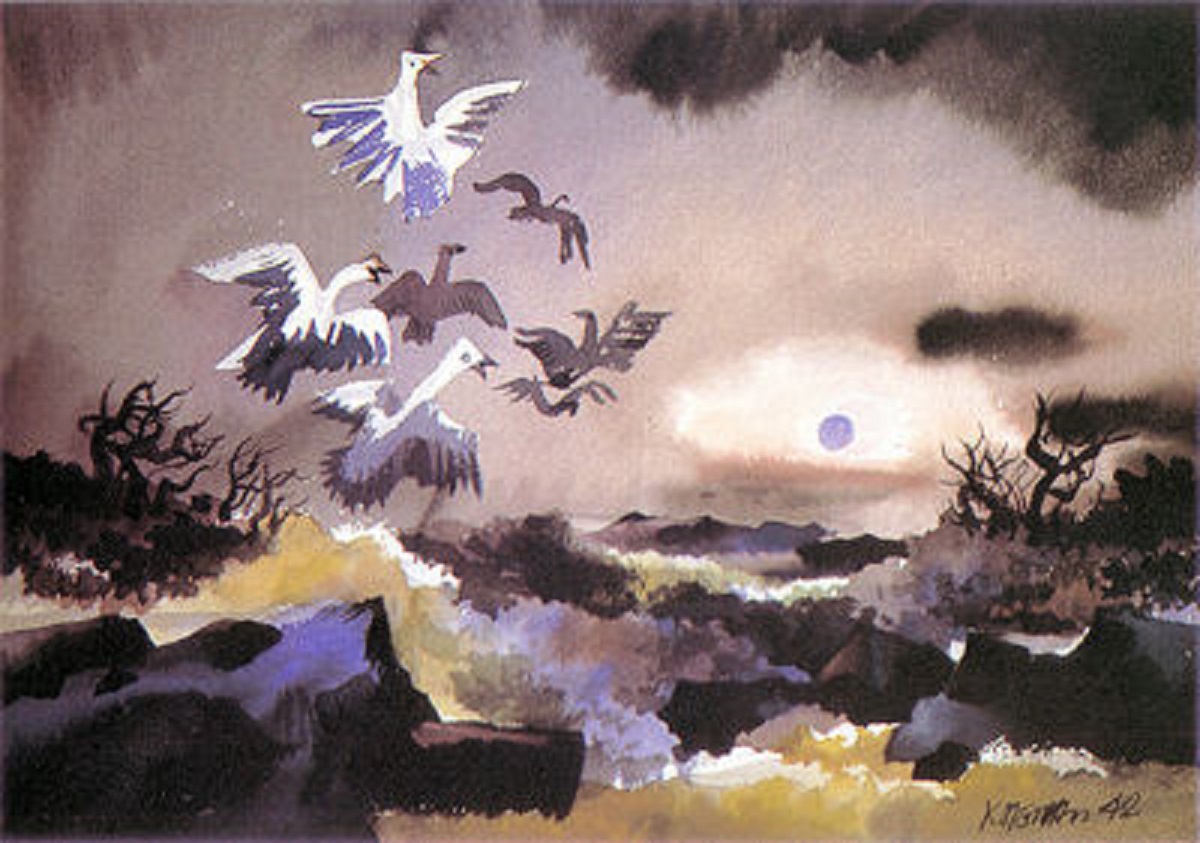 Blue Moon (1942) Watercolor © Dong Kingman

Museum of Fine Arts Boston[/caption] Dong Moy Shu was born in Oakland, California in 1911.
By the time he was five years old his parents had relocated to Hong Kong where the young artist learned traditional Chinese arts including calligraphy and watercolor. In school his teacher gave him the name "King-man", meaning "scenery-composition" in Cantonese. As a student attending the Lingnan Academy his "first and only true influence", instructor Szetu Wei introduced him to plein air oil painting and the historic worlds of European and western art. When he came of age at 18 he returned to America, Gum San, the "Golden Hill" to seek his artistic fortunes. Dong returned to Oakland with his new bride, Janice Wong and they proceeded to start building a family. This was in 1929, the beginning of the Great Depression, and Dong supported his family working a variety of non-art jobs including dishwasher, newspaper boy, restauranteur, and finally a houseboy, all while making time to pursue his art.
"My first teacher said I couldn't paint at all. Perhaps because I was using oils. I started to paint with watercolors and I suppose I found my medium." — Dong Kingman (St. Petersburg Times, Oct. 26, 1969)
He attended art school while running his restaurant but was advised to give up on trying to be a painter. Being an artist was his heart's desire. He remembered his teacher in China, Szetu Wei, had advised him at a young age "It is the spirit of being an artist that counts, if you are a true artist." Dong packed up his oil paints and started painting watercolors. It was like coming home. In his 1991 autobiography "Paint the Yellow Tiger" he remembered, "I was like fish taking to water, and birds to the sky. I did not care which way the world turned as long as I was painting."
When a storm destroyed his Oakland restaurant in 1933, Dong decided to move his family across the Bay to San Francisco. He loved the city, spending many days painting the lively scenes in Northern California. Working as a houseboy for a wealthy family during the day, he painted in his spare time, started entering shows, and by 1936 found recognition for the 20 watercolors in his first solo show. The San Francisco News art critic declared "Kingman's art belongs to the world-at-large of today." In spite of the recognition, money was a problem for the growing Kingman family.
The Depression had hit the arts especially hard. His friend, southern California watercolorist Tom Craig told him to go to the Works Progress Administration (WPA), they were looking for artists. Dong displayed his first WPA paintings in the 1939 Federal Art Project Show and two of his paintings in the 1940 New York Riverside Museum show were purchased by the Metropolitan Museum of Art. With his career looking up he received his first Guggenheim Fellowship to travel the country, paint and lecture. He traveled coast to coast, heading to New York and the east coast, exploring the cities and towns of America, painting as he went. When his Guggenheim Fellowships ended in 1944 he was drafted into the army and sent to Washington, D.C. to work at the Office of Strategic Services as a cartographer. During off-duty hours he painted the scenes of Washington, D.C. as well as nearby New York City. In 1945 he held his second one man show at Midtown Galleries in New York City.
That same year the deYoung Museum in San Francisco held a major exhibition of his watercolors. "Most artists are surrealists. ... always dreaming something and then they paint it."— Dong Kingman (Time Magazine, 1960)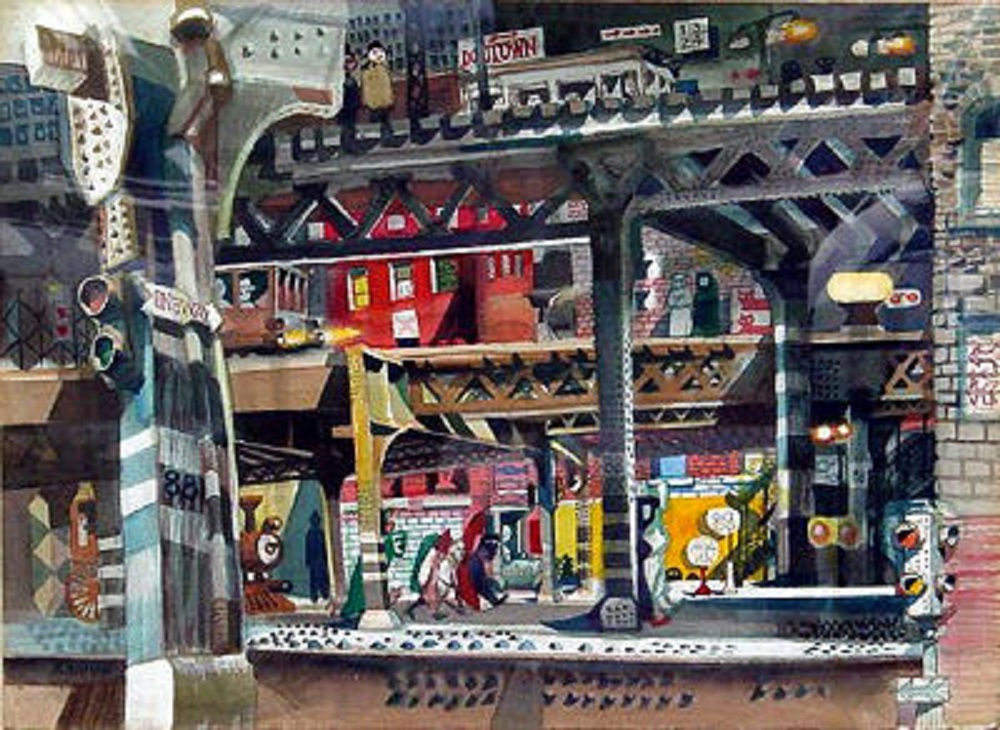 Triple Decker, New York City (1950) Watercolor © Dong Kingman

Phildelphia Watercolor Club Joseph Pennell Memorial Medal[/caption] In 1946, after the war, he packed up his family again and moved to New York City where he carefully developed new friends, patrons, and media contacts.
He taught art at Columbia University until 1958 and painted in his spare time, painting some of his most iconic images of the sights, sounds, and movement of the city. In 1949, Ben Shahn asked him to become one of the 10 original "Famous Artists" in the Famous Artists School (Westport, Connecticut) painting department, a position he held for many years. In 1951 Midtown presented a 10-year retrospective of his work. Time Magazine noted, "At age 40, Kingman is one of the world's best watercolorists." 1954 was a year of dramatic changes. Hollywood director James Wong Howe's film short "Dong Kingman" was released, Dong's wife Janice died, and U.S. Department of State International Cultural Exchange wanted him to tour the world as a cultural ambassador. He put himself into this work whole-heartedly and returned to the USA to publish the 40 foot scroll chronicling his visits to the worlds cities in the pages of LIFE magazine in February 1955.
In 1956 Dong married journalist Helena Kuo, and the following year he began his lifelong association with Hewitt painting workshops, traveling to exotic locations once or twice a year teaching watercolor workshops. By the time his first book "The Water Colors of Dong Kingman, and How the Artist Works" was published in 1958, Dong Kingman was a household-name. That year Kingman moved from Midtown to Wildenstein (1958-69) where he broadened his international reputation with successful exhibits in New York, London and Paris. Dong had met many people in the entertainment industry through the years and some of his friends were now employed in the art departments of film crews.
He added his touches to films such as The World of Suzie Wong (1960), Flower Drum Song (1961), 55 Days in Peking (1963), and Sand Pebbles (1966). His friend Emil Kosa, Jr. was also on the art team of Sand Pebbles, providing the matte paintings for "special visual effects". The 1960s were a whirlwind of painting and traveling worldwide. Dong's unique multi-cultural persona, pegged early on as merging Eastern and Western styles made him a valuable asset to the USA in world relations. His influence on the popular culture of America through use of images of his paintings in movies, magazine covers, posters, and illustrations furthered the warming of relations between China and America that culminated in President Nixon's historic 1972 China visit.
A decade later in 1981, Kingman was the first American artist to be accorded a one man show in China since diplomatic relations between the two countries resumed. More than 100,000 visitors attended and the retrospective received critical acclaim from the Chinese media. Through the rest of his career Dong continued traveling and painting the cities of the world. His high-visibility assignments through the years included creating posters for the Olympics and Pan Am, and numerous cover assignments for magazines like Time, Fortune, Life, and Saturday Review. He was invited to be a judge in the Miss Universe contest in 1969 and was proud to serve 20 years, sharing the stage with stars and celebrities of the day.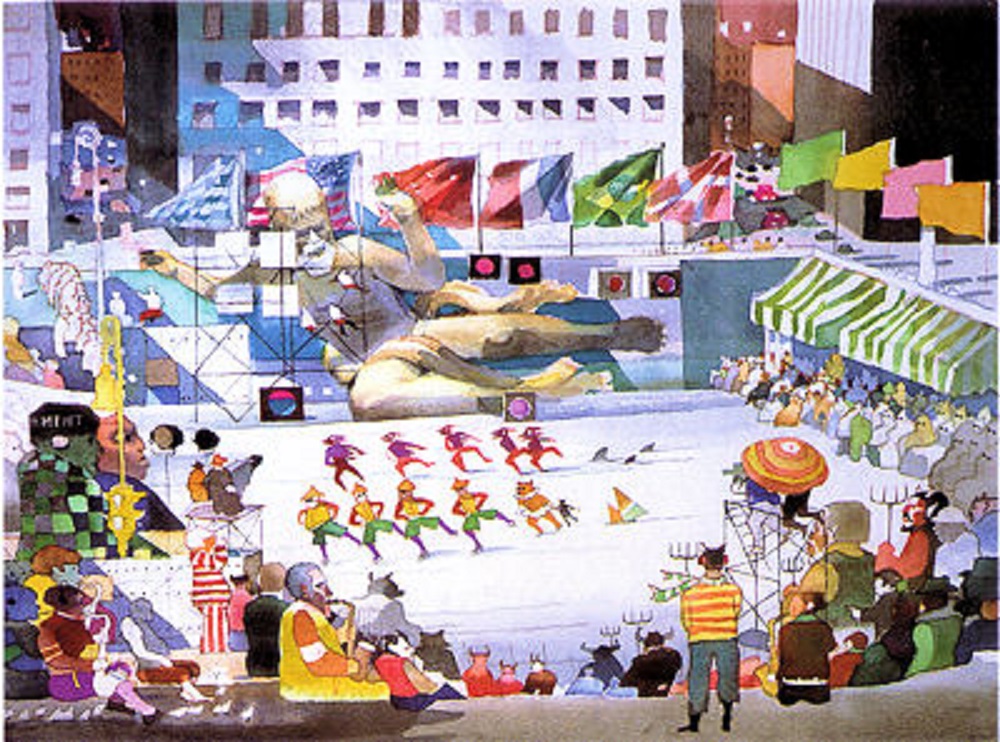 "Rockefeller Center" Watercolor © Dong Kingman
When Dong Kingman went on tour for the State Department in 1954 he realized cities were his favorite subjects and he spent the rest of his life capturing the lively essence of the world's great cities. In 1997 "Portraits of Cities" was released chronicling the vitality and beauty of the world's major hubs of civilization as seen through the eyes of one of America's own watercolor masters. If you look at Dong Kingman's work year by year you can see his skills and style sharpen and shift. The muted grays and umbers and realism of his early watercolors gradually gravitated to brighter colors with scenes populated with characters and symbols drawn from Dong's personal iconology and sense of humor. His late period paintings are brighter still with masterful abstractions in design using the white of the paper to expert advantage.
In McClelland and Last's "The California Style: California Watercolor Artists 1925-1955
" (Hillcrest Press, Inc. 2002,) the authors write of Dong Kingman's stylistic development: "Kingman's early works featured loose washes, often done using a wet-into-wet technique, with some dry brush calligraphy for definition. His post war works became increasingly complex in subject matter and usually had a geometric, abstractionist look. Between 1945 and 1965, he painted a large number of outstanding cityscape watercolors of New York City and San Francisco.
The best of these works have exceptional compositions, interesting subject matter and an exciting sense of drama. They are among the finest examples of American watercolor produced during that era." Dong Kingman passed away from pancreatic cancer in the year 2000 at the age of 89. His paintings hang in over 60 Museums and public institutions world-wide including the Museum of Modern Art, The Brooklyn Museum of Art, Metropolitan Museum of Art, Museum of Fine Arts, Boston, The Frye Art Museum, M.H. de Young Memorial Museum of Art, and the Pennsylvania Academy of Fine Arts. During his lifetime he won "virtually every major award for this medium" including the American Watercolor Society's prestigious Dolphin Medal and National Academy's 150th Anniversary Gold Medal of Honor.
His family keeps his legacy and good works alive through archival and arts outreach at Dongkingman.org.