East Boothbay, Maine, USA
Tony van Hasselt's workshops are still very popular. They should be, this whole "watercolor workshop" thing is largely his fault. As an immigrant-pioneer-art student, he and his friend, artist Jay O'Melia launched the first Painting Holidays workshops in 1963. In 1972, Tony van Hasselt was elected to the American Watercolor Society and in 1992, with Judi Wagner, he co-authored the Watercolor Fix-It Book. They introduced the "8 Building Blocks of Painting" concept to simplify creating, analyzing, and fixing paintings that have gone astray. Tony has been featured in American Artist, Southwest Art, Australian Artist, and his paintings have graced the covers of the Watercolor Magic and Artist's Magazine. His work can be found in the books of veteran watercolor artists Rex Brandt, Valfred Thelin, Ron Ranson, and Edgar A. Whitney. Tony grew up in the Netherlands, coming to America in 1955 as a teenager. His life's journey as an artist has elements shared with many other artists who utilize their artistic skills in the commercial art (graphic design) field to support their love of painting. "I think we all start out with watercolors as kids. I just remained a kid all my life."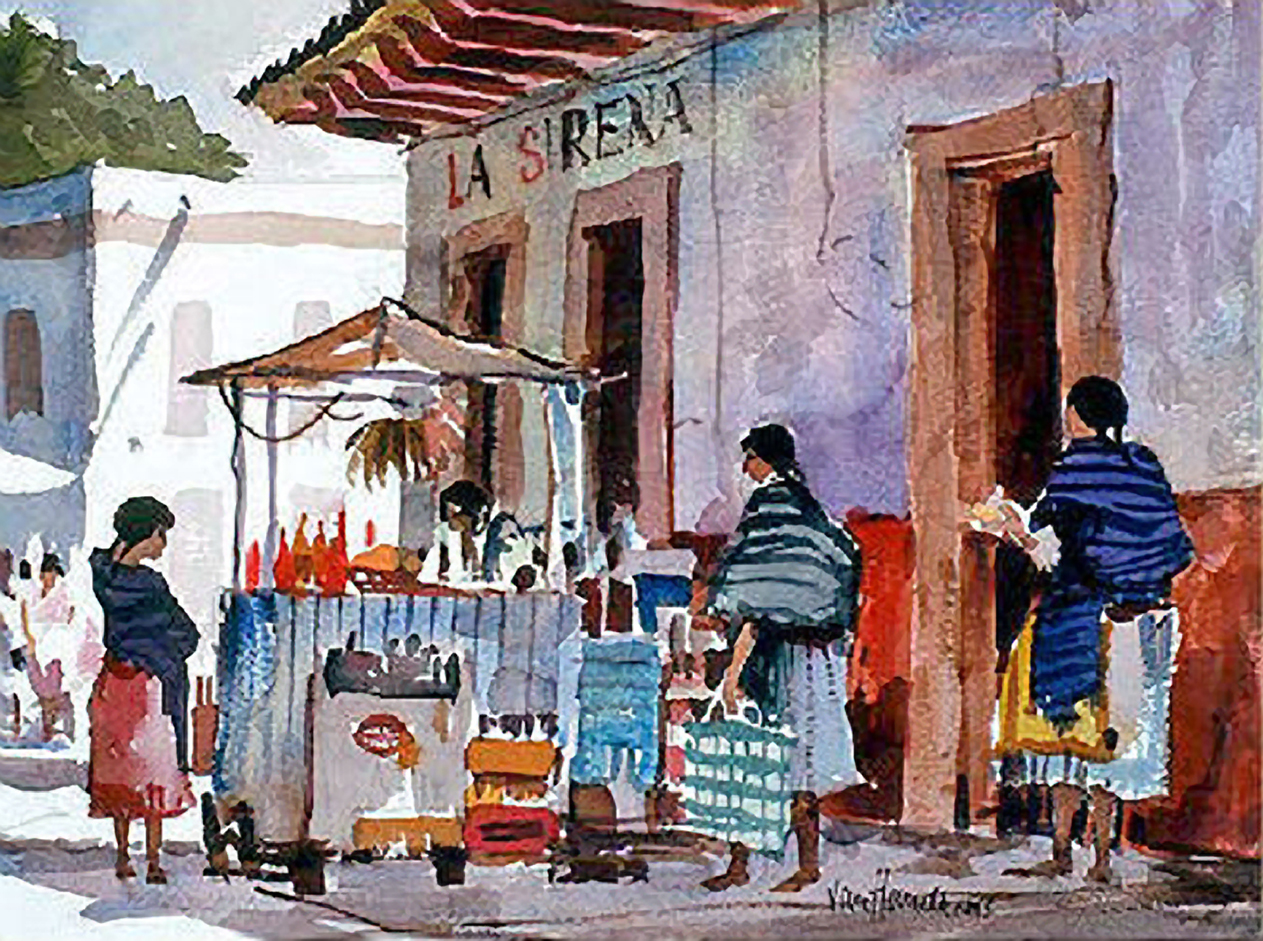 "Roadside Stand"
-2009 I recently caught him in between workshops. At home in East Boothbay, Maine, the Dutchman was preparing for the second leg of his 2009 workshop schedule which includes a trip to Guatemala for his annual workshops there. I ask him how he got to where he is today. It all started during the second World War in Holland at a very young age. Of his earliest memories Tony says "I vividly remember drawing houses with the neighbor kids who all added their chimneys at a direct angle to the roof and me telling them 'no, that chimney doesn't do that, it goes straight up.' A teacher was born!" At the age of twelve Tony van Hasselt enrolled in a correspondence course for advertising art in Holland. Although he didn't finish the entire course, it "forced me to go out and make pen and ink sketches on location." which according to Tony was "My first plein air experience." His love of making art outdoors had started. Tony was employed by his early teens. Life was tough. "During and after the second world war, we just needed to survive and being a painter was just out of the question. However, by becoming a window dresser, I found something at least in the neighborhood of art." On the job, he learned quickly. "As an apprentice, you had to submit your design idea, it had to have a theme, a color dominance and each part of the display was based on the magic triangle, so I got a lot of art education right there." When their show-card artist left, Tony found himself learning the ways of the brush and gaining a new respect for sign painters. "The advantage sign painters have is that they are constantly aware of the letters they put down as well as the space between them. So you automatically think positive and negative. That's a big plus in watercolor where you have to think ahead and save the whites." "Sitting in a cellar studio as a 15 year old was not fun, but I did it for three years and learned to manipulate the brush."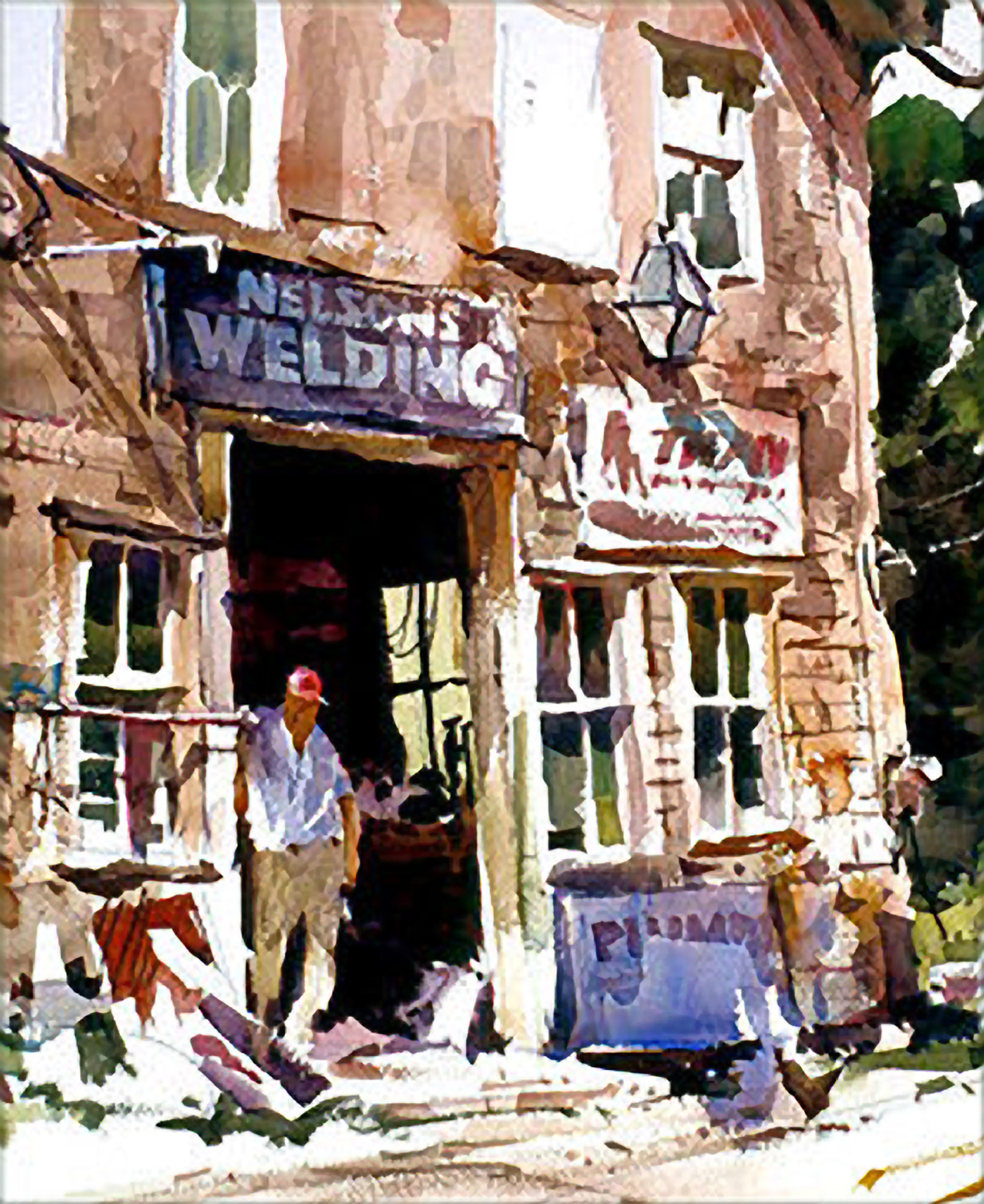 "Nelsons Welding" - 2009 "My ability to draw and good common advertising sense helped a lot. I did everything backwards. I earned my living in the advertising field before ever going to a real art school."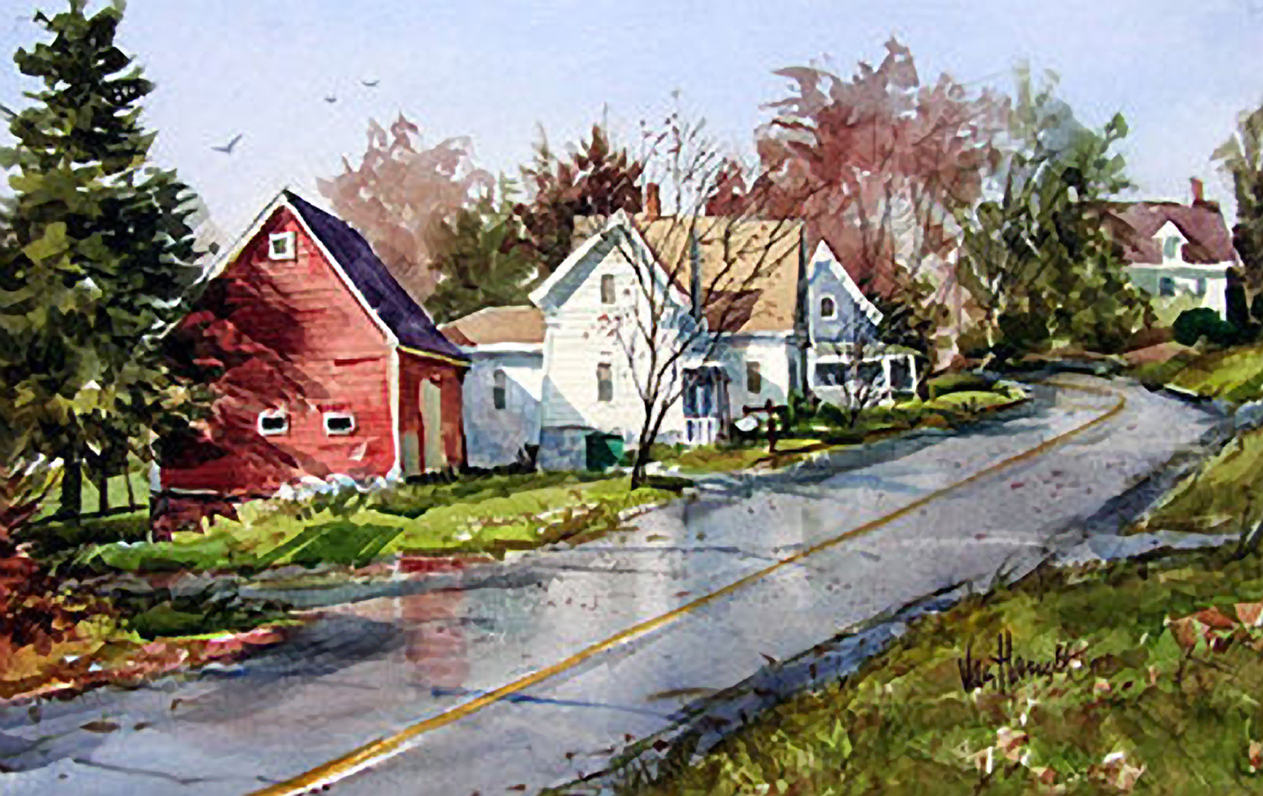 "Wet Road"
- 2009 After coming to the United States Tony served eight years in the Army Reserve and lived in Tulsa, Oklahoma. In rural Oklahoma the window dressing jobs were slim, so a change in direction led to work for a lithographer, followed by employment in an advertising agency. In Tulsa he found a mentor and friend in artist Jay O'Malia. Tony took courses from Jay once a week and their friendship grew, leading to their first workshops in 1963. At Jay's encouragement Tony "moved mountains" to move to New York in 1965 to study under Jay's former teacher, Frank Reilly, a dynamic instructor who was referred to as "the number 1 art teacher in America." Reilly had left the Art Students League to start the Frank Reilly School of Art. Mr. Reilly's figurative work echoes artists such as N.C. Wyeth and Howard Pyle who brought fine art sensibilities to the commercial art clients of their day. Attending art school in the winter, he spent his evenings planning summer workshops in Europe. Finally, "After gaining some travel and organizing experience, I contacted nationally known artists whose paintings and books I admired and soon had watercolorists such as Rex Brandt, John Pike, Herb Olsen, Edgar A. Whitney and others teaching the workshops I organized." He modestly adds, "And of course, as a side benefit, I was able to sit in on the classes and learn from my idols and friends. Yes, I went to art school for a short time, but my real education came through the workshops and being with these great painters. I am basically the product of workshops." Tony authored A Studio Visit followed by Outdoor Watercolor Workshop (Watson-Guptill) in 1982, in which he began to codify his years of workshop experience. Then in 1992, in corroboration with artist Judi Wagner the Watercolor Fix-It Book (North Light) was born, shortly followed by 1995's Painting with the White of Your Paper (North Light). Through the years the workshop business was doing so well that Tony found he had little time left for being an artist. It finally hit him that "This is not why I went to art school." After reassessing his priorities, he negotiated the sale of Painting Holidays to American Artist magazine, "in which I had advertised all those years." He began to focus on what was important to him; painting, and his students. Tony van Hasselt has a personal style reflecting the best of the design school ethos of watercolor painting grounded in a solid understanding of, and love of, nature. He breaks down a scene into its essential elements, imbues the composition with sound design aesthetics and deftly energizes his work with a painterly flair with grace notes reminiscent of his mentors, but uniquely his own. "I was influenced both by the East Coast painters like John Pike and Ed Whitney, as well as West Coast watercolorists such as Rex Brandt, Robert E. Wood and Milford Zornes. They were my teachers, friends and all faculty members of Painting Holidays." His style "fluctuates between the representational and the more creative, decorative approaches...I have fun with both." Tony has produced a number of popular titles for your video learning library. All are available on his website. His current videos include: Fun with Figures (DVD), Creative Realism In Watercolor (DVD), How To Mix Greens & Foliage (DVD), Watercolor Fun in Nature's Studio (DVD), and the Building Blocks of Painting (DVD)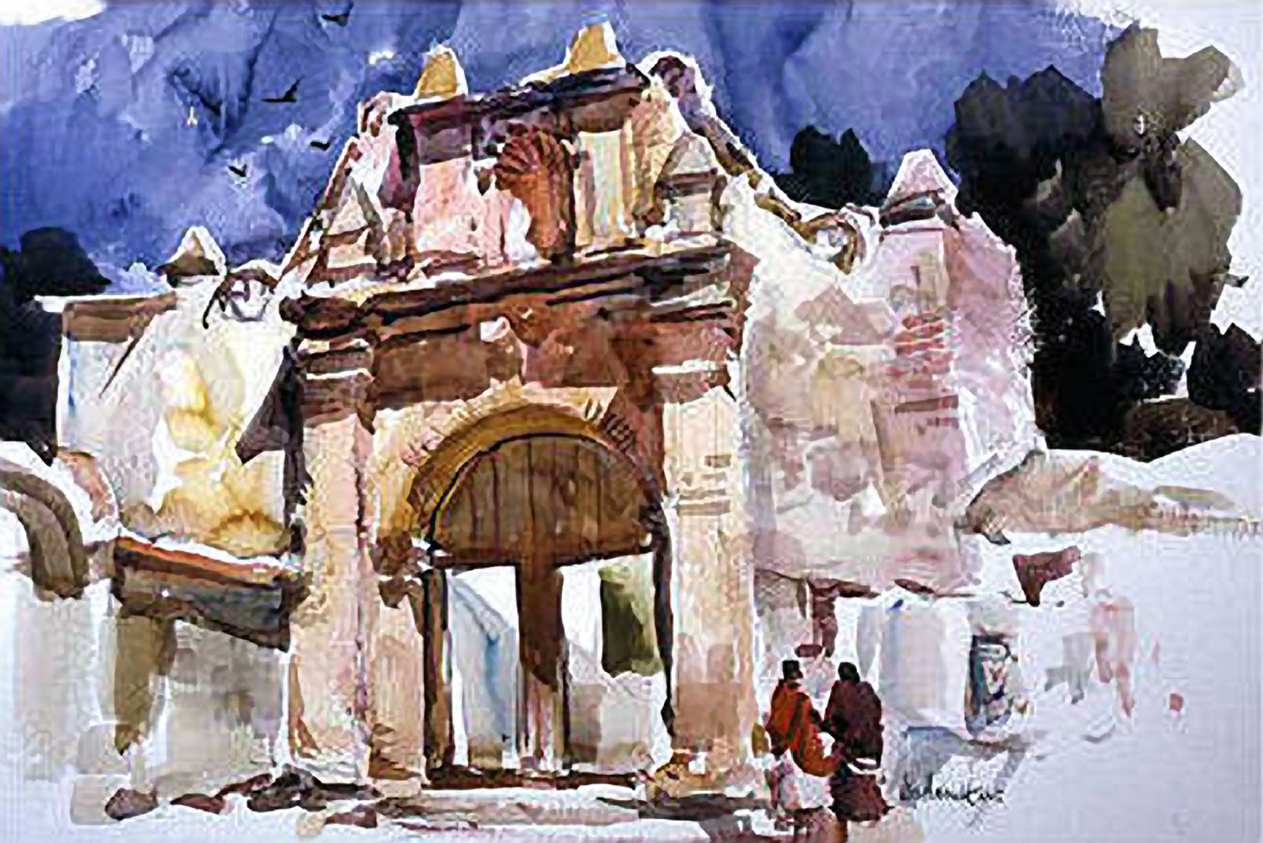 "Colonial Edifice"
- 2009 I asked Tony what brings him the most enjoyment as as artist and a teacher and as he explained I realized that Tony van Hasselt doesn't separate the two. He is both. And he seems perfectly fine with that. "I'm a ham. I love to teach. We all want to be better, so we are all rowing in the same direction. I have empathy with those who honestly want to improve and remember my own struggles. And in watercolor, those struggles are always there. Watercolor keeps you humble." "When I judge a national show and see some of the entries which really shouldn't even be there, I remember. I often share some of my disastrous early attempts with the students, just to show I've been there too." Tony van Hasselt then sums it all up quite nicely. "It's a wonderful struggle. It's a wonderful life!"