Looking to paint some Valentine's Day cards for your friends and loved ones? We've got you covered! For this beginner-friendly watercolor DIY, all you need is watercolor paint and office supplies. Thanks for sharing the fun design, Kristina!
Materials used:
A sheet of Canon Montval cold press watercolor paper (140lb, cut to 3½" x 10")
Painting palette for watercolor paints
A container of clean water
A rag or paper towels
C-Thru T-Square Ruler
Simon Says Stamp Teflon Bone Folder (or the edge of any credit/plastic card)
Paper Mate 0.7mm Mechanical Pencil with Twist Eraser
EK Success Cutter Bee scissors
Crayola Washable Watercolors (8-count, comes with a no. 2 round brush)
Pilot Envelope Address Writing Gel Ink Pen (Fine, black ink)
3M Post-it note pad (1½" x 2")
---
Step 1: Scoring a Fold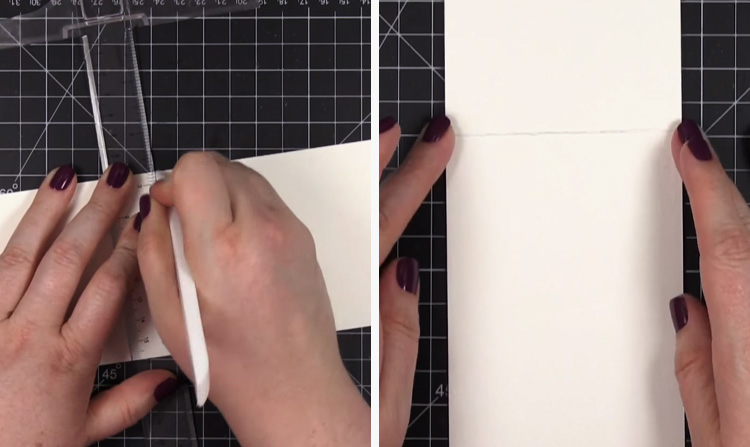 Here's a Valentine's card that you can get done at the drop of a hat! First thing you need to do is to prepare the card itself. Take your watercolor paper, cut down to a 3½" by 10" rectangle, and use a ruler to mark its midpoint at 5". This is where you'll be folding the card in half. Next, with the ruler as a guide, use the bone folder or a credit card to "score" the paper down the middle. To do this, repeatedly run the tip of the bone folder down the ruler, as if you are drawing a line. Make sure you are applying enough pressure to create a "dent" in the paper. Doing this will cause the paper fibers to break, making it easier to fold thick paper in half without causing wrinkles. Fold the card and run the bone folder along the folded section to ensure that the fold is clean. Once this is okay, unfold the card and prepare to design the cover!
---
Step 2: A Post-it Template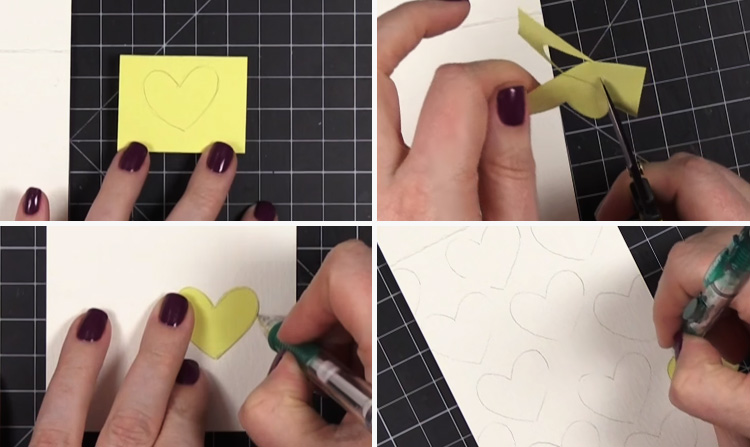 For this step, you'll need some common office supplies: a post-it pad, scissors, and a mechanical pencil. With the mechanical pencil, draw a heart on the post-it pad. Make sure that most of the heart is on the sticky side of the post-it so that your template will be easier to use. Use a pair of scissors to cut the heart out. To achieve smooth edges, keep the scissors steady while manipulating the post-it with your hands. Now, use your new post-it template and mechanical pencil to trace a heart pattern on the cover of your Valentine's card. Easy, right?
---
Step 3: Wet-in-wet Valentine's Day Hearts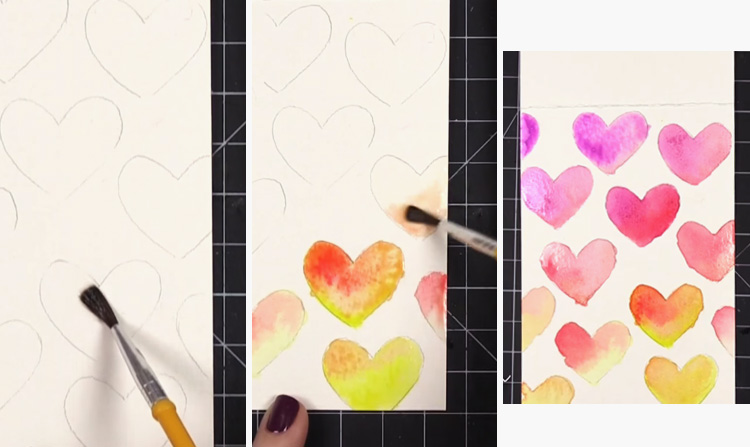 Now for the fun part! First, take out your watercolor set and use the accompanying round brush to pre-mix puddles of Yellow, Orange, Red, and Violet. After rinsing out your brush, cover a heart with a wash of clean water, then drop in yellow and orange via the wet-in-wet technique. Adding wet colors to an already wet surface will allow the colors to mix naturally in a variegated wash. You can use this fun technique to achieve unique color mixes! Do the same for all the other hearts, mixing up the color combinations to keep things interesting. In this tutorial, for example, the hearts at the bottom start with Yellow and Orange, then Orange and Red, and finally Red and Violet at the top.
---
Step 4: Strengthening Tints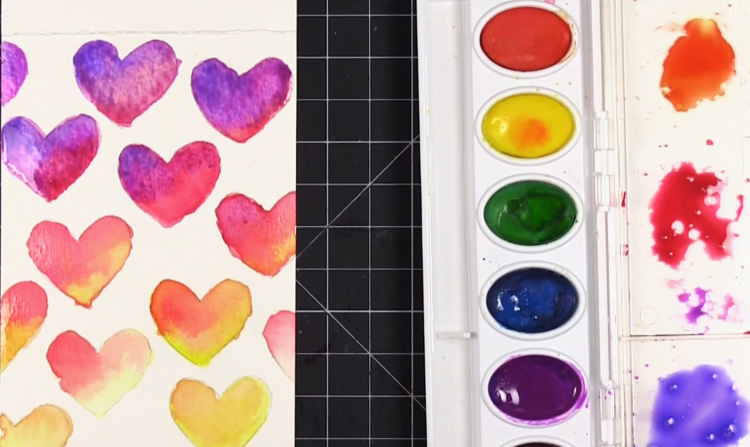 Mix together Blue and Violet and drop it into the topmost hearts to strengthen the purple tint. Do the same with the Reds, Oranges, and Yellows. Work these extra colors in via wet-in-wet, if you can. If the hearts have dried, simply add a thin layer of clean water on top before dropping the colors in. This extra layer of color will make the hearts on these Valentine's Day cards really pop! Once you are done, allow the paints to dry before proceeding to the next step.
---
Step 5: Adding a Sliver of Shadow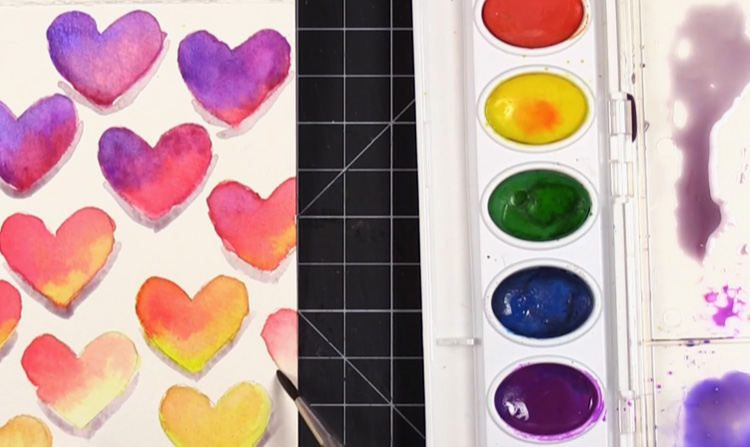 For simple Valentine's Day cards like this one, adding small details makes all the difference. Mix a diluted Gray tint from Blue and Orange, and use the tip of your round brush to add a line of shadow under each heart. Use the wet-on-dry technique (i.e. adding wet paint to a dry surface) so that the lines have a clean edge. Be sure to keep the tint subtle by keeping the paint diluted. These shadows are here to make the hearts pop, not overpower them.
---
Step 6: Drawing Details on Valentine's Day Cards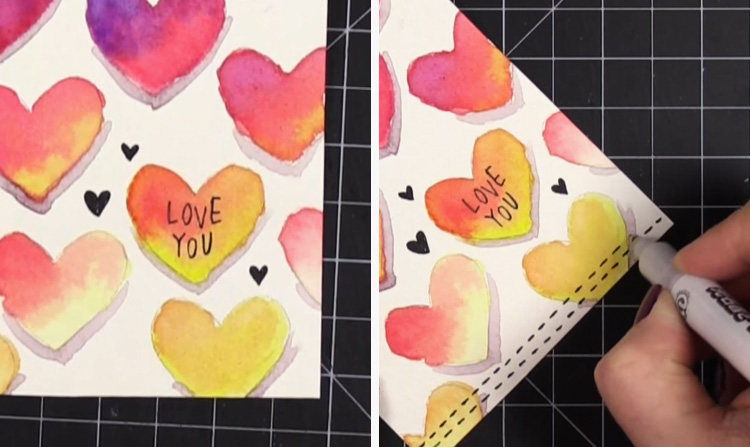 For the final step of this graphics card, take a gel ink pen with black ink and write a short but sweet message in one of the hearts. Next, add some darker embellishments with the pen. Draw some small, black hearts around the watercolor hearts, then add two rows of dashed lines at the bottom of the card. Look at that - you're done! We hope you enjoyed this quick and easy DIY! If you'd like to watch how Kristina makes a card, here's her video: