Livermore California
Some of you have met On The Net artist Carolyn Lord through her interest in the Millard Sheets palette. A "plein air" painter by training, she often utilizes her outdoor paintings as creative fodder for her beautiful larger works. When Carolyn Lord was 26, her work was profiled on the "Watercolor Page" in American Artist Magazine, followed by articles in U.S. Art, Watercolor, and Watercolor Magic magazines. She is an extensive traveler and has studied with such noted artists as Millard Sheets,
Rex Brandt
,
George Post
,
Milford Zornes
and Robert E. Wood. She is an Artist Member of the
California Art Club
, and a Signature Member of the
National Watercolor Society
. [caption id="attachment_1337" align="alignnone" width="1200"]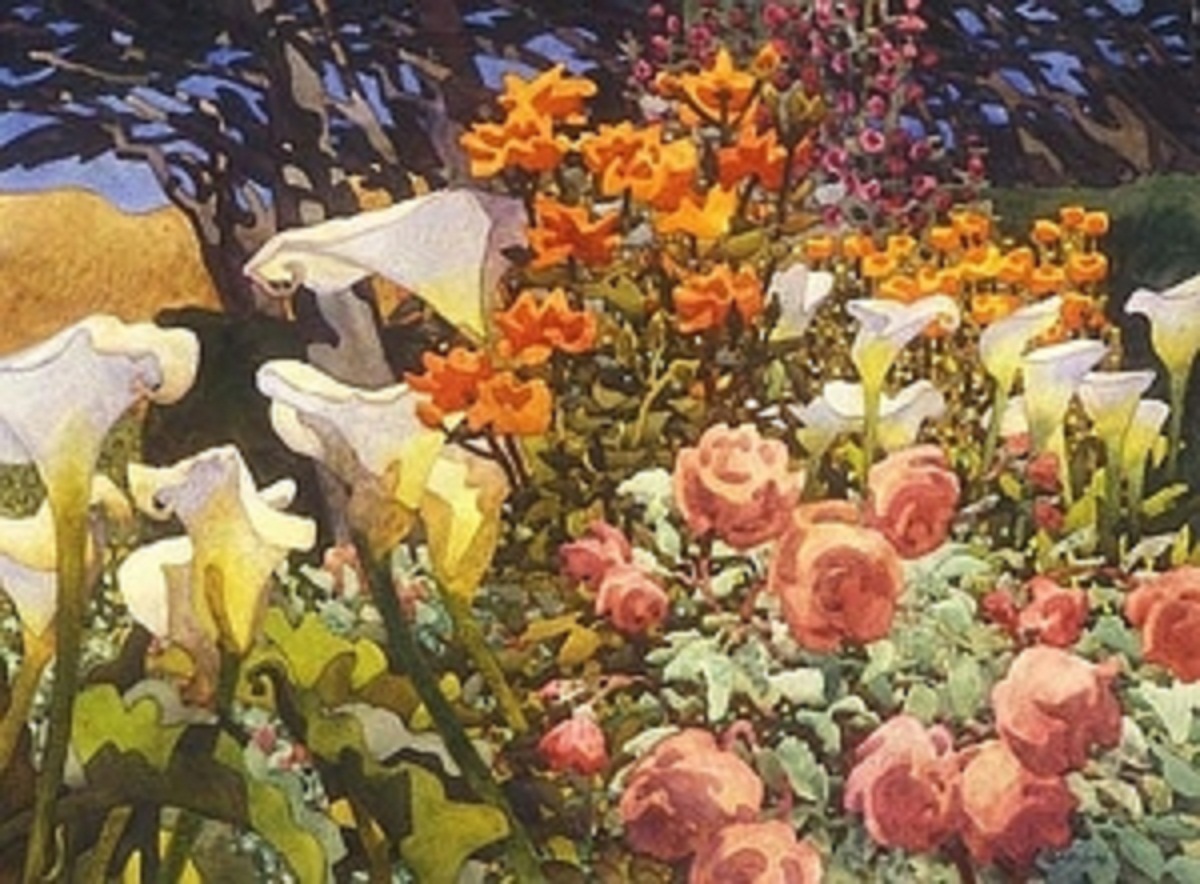 "Garden Chimera" Watercolor on Arches 22" x 30"
© 2010 Carolyn Lord
[/caption] "My paintings can be subtle, direct or whimsical, of what ever I feel is important to share. Usually it's a record of visual beauty, sometimes I hint at ideas and concepts that are revealed in the painting or in the title." — Carolyn Lord Carolyn explains elements of her creative process while completing a recent large commissioned piece: "The concept behind An August Garden was to paint a mate for another full-sheet watercolor that had been purchased by Saint Joseph's Hospital in Stockton, CA. Since Garden Chimera was a studio piece based on spring time calla and rose paintings that I had done plein air, I decided to create a painting based on several summer garden paintings of sunflowers and cosmos." "Since this was to be in a hospital setting, the mood was to be upbeat. I had chosen the unlikely subject of sunflowers past their prime, yet I included the life-giving aspect of a garden in full. Birds are fluttering in the shadows of the big sunflower gathering seeds, the ladybugs and butterflies are feasting on bugs and nectar." "The main sunflowers provided the bold foreground motif with its large forms painted in single washes of yellow and orange based greens and neutrals. These are contrasted with the cool pinks and blue greens of the cosmos, painted with innumerable individual brush strokes. In addition to the Variation of scale in the foreground flowers, I created a contrast between near and far by including a row of a different species of sunflowers in the middle distance with blue-grey foliage to give a sense of the strong sunlight that washes out color." "Garden Chimera has large trees in the background to enclose the garden, so I utilized that motif in An August Garden with a suggestion of the flat landscape so indicative of California's Central Valley. The bungalow is an rural archetype and provided an excuse to introduce the blue to match the bright energy of the flowers and to be the counterweight for the neutralized blue-greens and warm grays." When she is not on the road, Carolyn draws inspiration from the architecture, landscape and gardens of her home town, Livermore, California. Watercolor painting defines her career, but is not the full extent of it: Carolyn has a continuing interest in figure and portraiture painting, most recently working in oil. More of her work and contact info can be viewed at
http://www.lordanglin.com/
. Visit Carolyn's website
http://www.lordanglin.com/