Watercolour Alhambra, CA, USA
California native Tom Fong paints with a renowned creative abandon, attacking the paper in his signature "free and loose" style. He distills the artistic essence of whatever subject matter is at hand while imbueing movement, light and color with his wide brush and calligraphic accents. In his popular workshops and demos he entertains and inspires students with a quick wit and skilled hand. Tom Fong is listed as one of the 20 Great Teachers in the March 2008 collectors edition of the Watercolor magazine(American Artist Publications). His art and teaching have nurtured a loyal following of students, patrons, and admirers through the years. Tom's style has been described as "fast, bold, direct, spontaneous" and he encourages his students to be "spontaneous and direct through the creative spirit of intuition and improvisation." This zen-like aesthetic of artistic freedom seems a bit at odds with the highly precise nature of his life's day job. After all, watercolor painting isn't rocket science. Is it?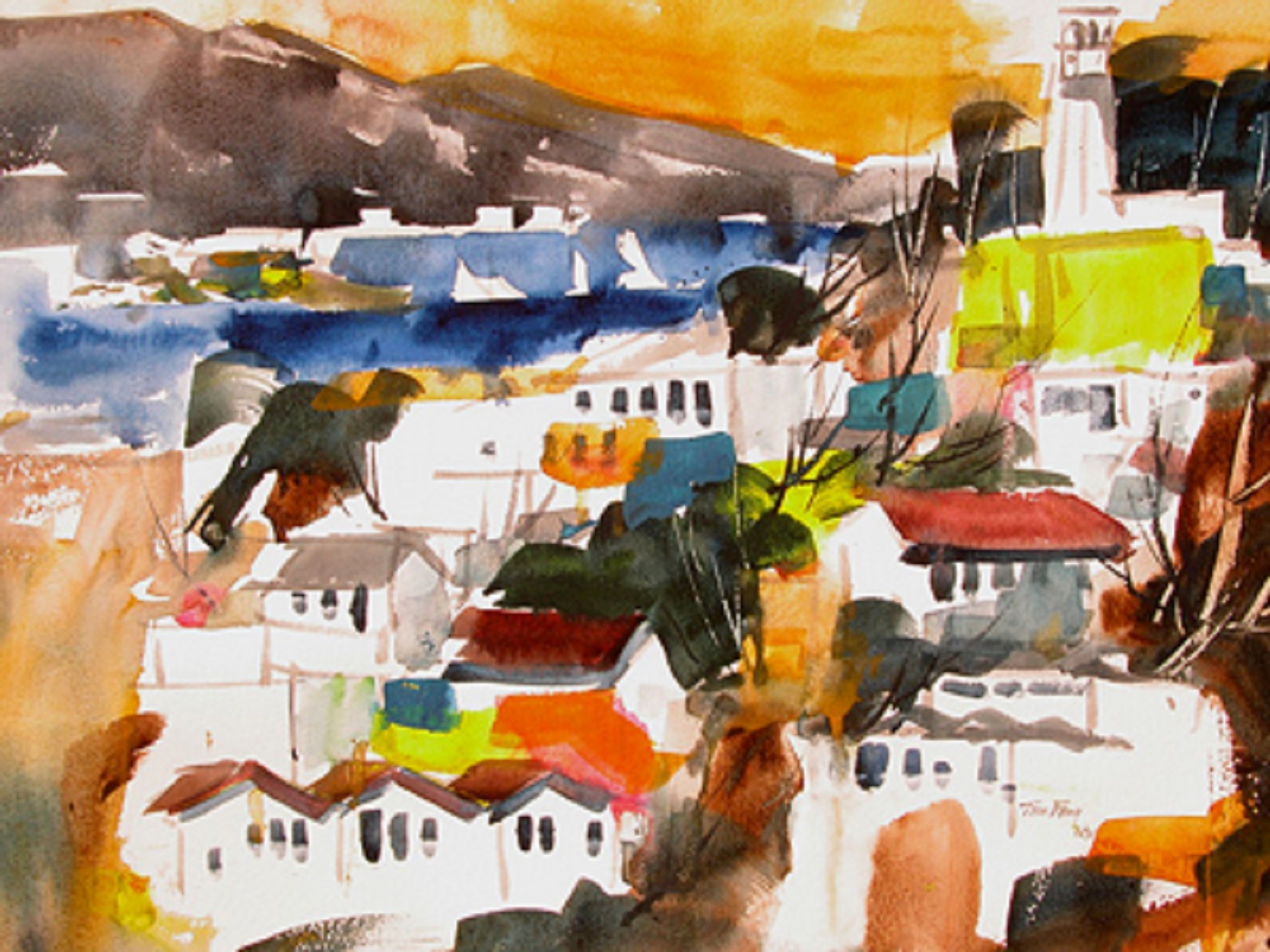 "Coit Tower, San Francisco" 22" x 30" Watercolor © Tom Fong "People always ask me, why do I paint? I answer with a real simple answer, 'I paint because it gives me joy.'" — Tom Fong He was born in 1929 in Sacramento, California and although it was the beginning of the Great Depression, his father and family did well in the grocery business. They soon relocated to Los Angeles, where Tom was raised and went to school. The young Chinese-American had an early interest in art, "I loved reading the Sunday comics, including comic books. I started to draw at about the age of 7, creating my own comic strips." By the time he was in elementary school Tom was developing an eye for design. His teacher, Mrs. Hurst, chose his Christmas card as the best designed in the class, but the wording on his report card had him a little worried, "I was young at the time and on my report card in the art category, she gave me an 'A' including a notation 'His art is outstanding.' I didn't know what the word meant, so I asked my older brother for the meaning and he said, it's much better than good, it meant really, really good. Understanding what the word meant, I finally gave the report card to my dad to sign." He was first introduced to cake watercolors in junior high school, but "the instructor did not give any formal instruction, I learned on my own." Still, Tom says "I enjoyed the class very much, because of academic requirements that was my last art class in public schools."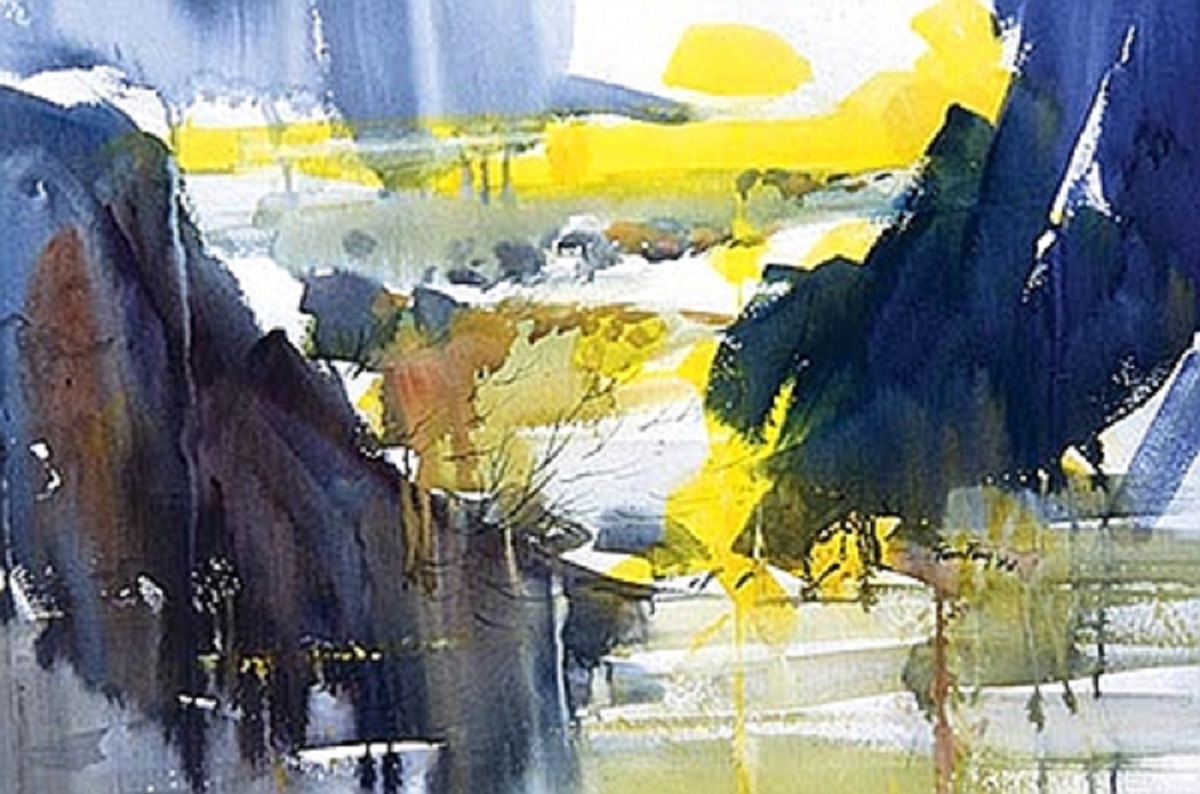 "Valley of Light" 22" x 30" Watercolor © Tom Fong "His art is outstanding"— Mrs. Hurst Not too long after Tom graduated from high school he was drafted into the military service during the Korean Conflict. After completing his tour, Tom immediately entered college. "The GI Bill paid for my 4 years of education at the University of Southern California, School of Architecture with a major in Industrial Design." Tom proudly speaks of his older brother, Art Fong, the noted electrical engineer. Art was one of the first six engineers hired at Hewlett-Packard in 1946 where his work became a huge asset to the company. Art's own creative portfolio includes developing the first commercial AM/FM tuner and receiver, as well as many other innovations in electronic attenuation,spectrum analysis and radar. Art encouraged his brother "to go into the engineering or related fields," which proved to be sound advice.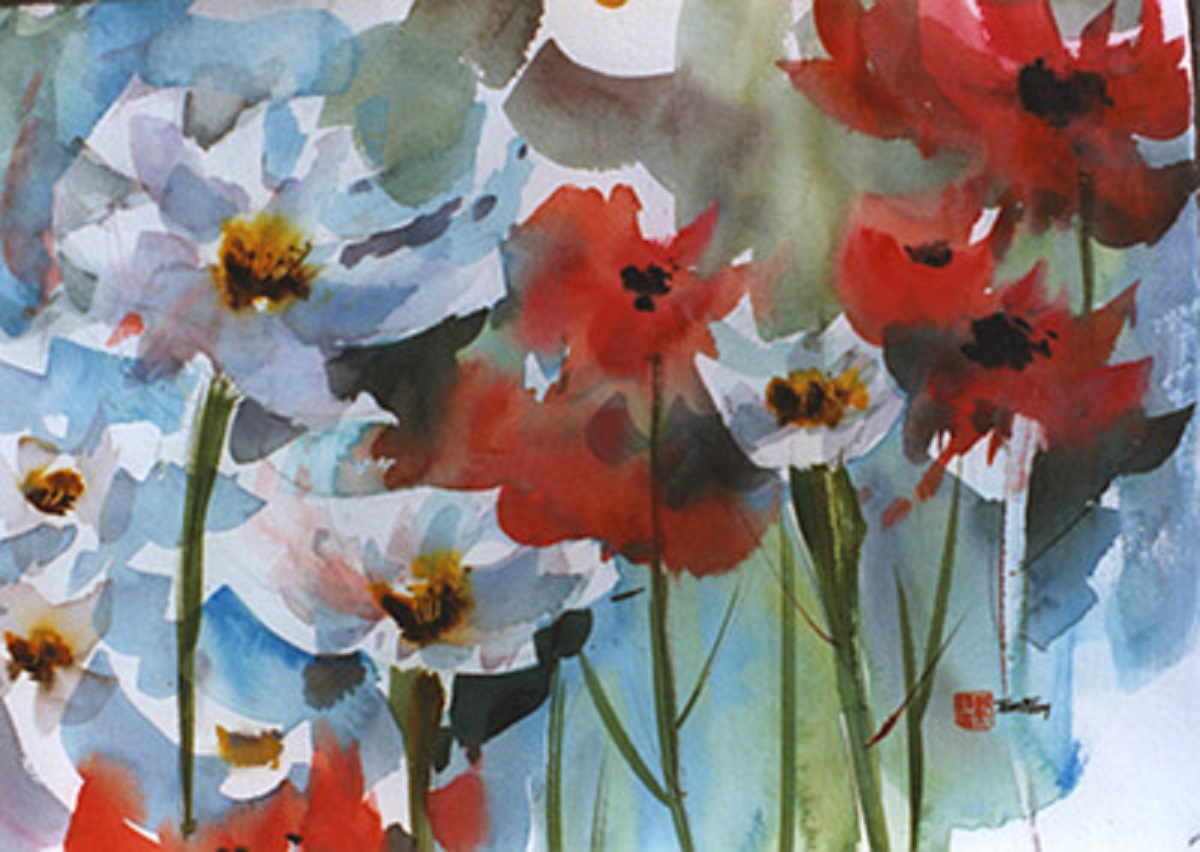 "Flowers" 22" x 30" Watercolor © Tom Fong "Be spontaneous and direct through the creative spirit of intuition and improvisation."— Tom Fong After college Tom entered the aerospace industry, where he worked as a design engineer with the "Human Engineering Group" with various companies. Through the course of his career he had a hand in designing ergonomic, functional work environments for pilots and astronauts, including working on the development of the F-14 fighter jet and the Apollo mission Lunar Modules, specializing in controls and displays. In his spare time Tom began studying watercolor painting and taking watercolor classes with some iconic figures in watercolor. His unique near-vertical paper set up came about from necessity. After a day of work he would rush to evening classes being taught by watercolorist Robert J. Uecker, where Tom usually found the classroom seating full. Not one to complain, Tom leaned his board against the wall where he discovered part of his signature style dwelling in the washes that flowed and mixed in the steep angle of his work surface.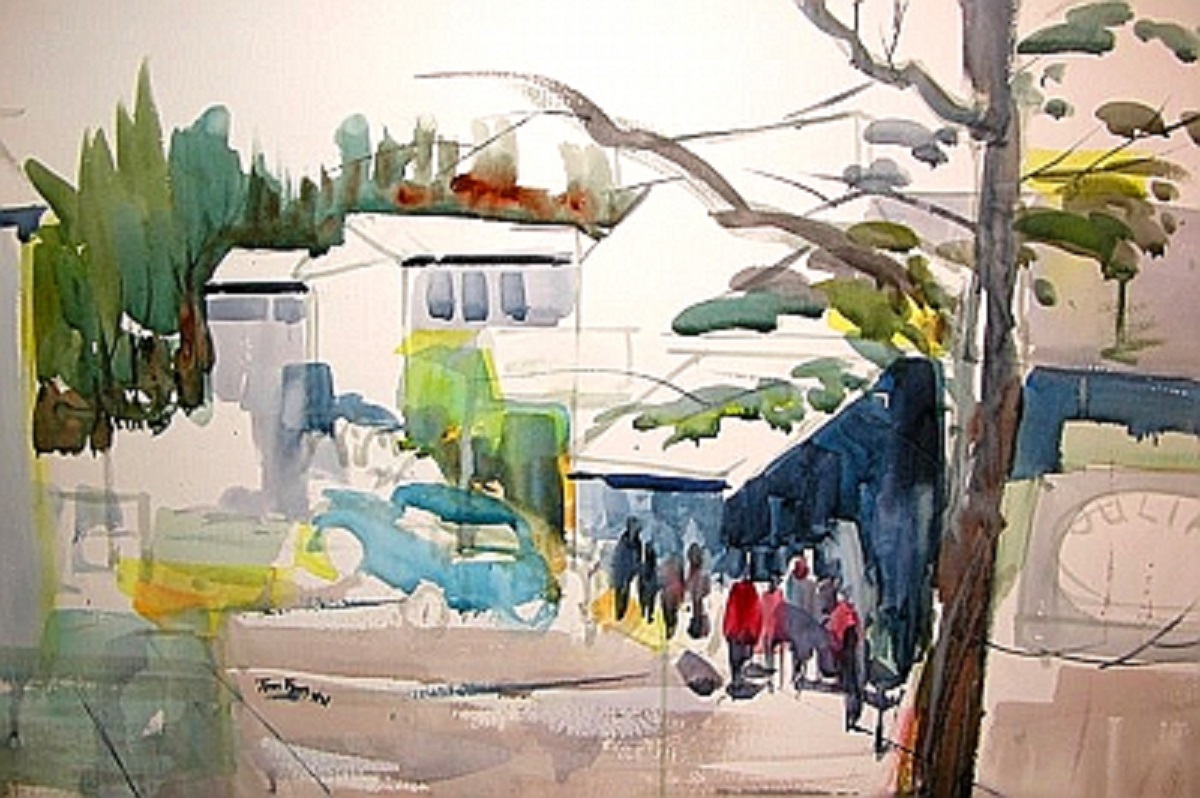 "Julian" 22" x 30" Watercolor © Tom Fong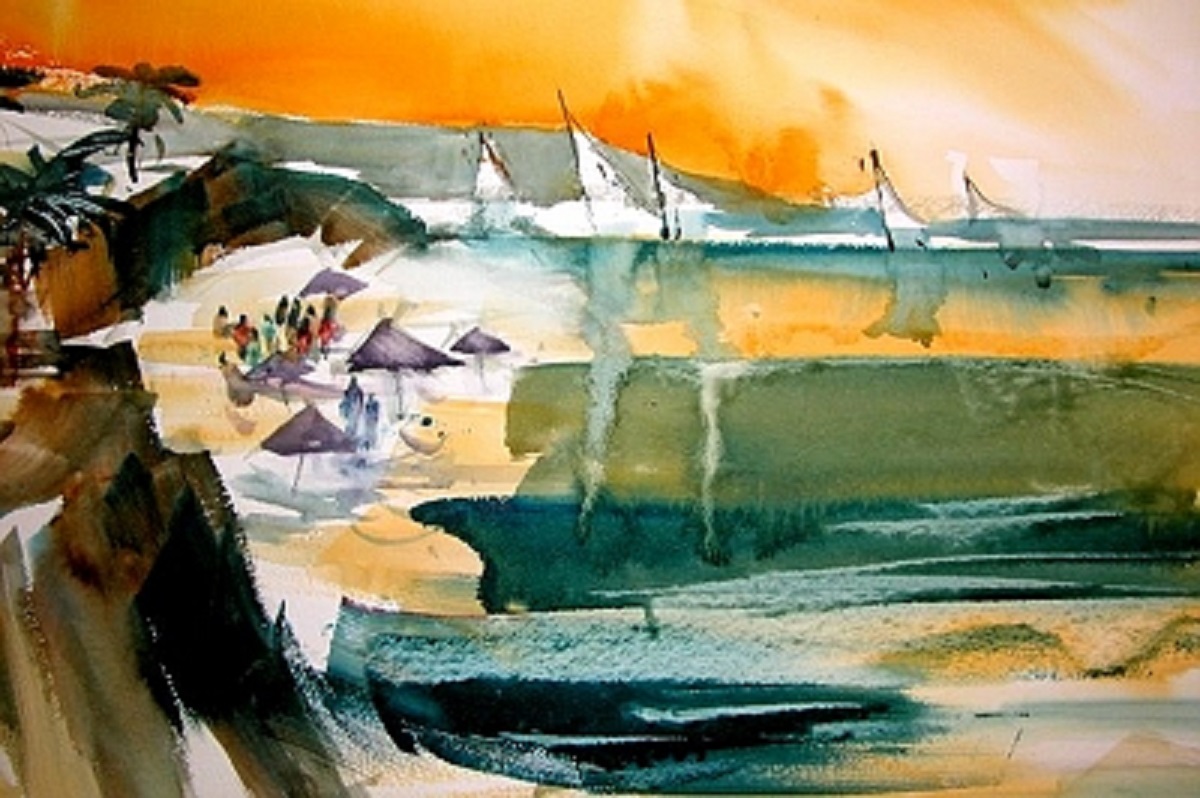 "Corona Del Mar" 15" x 22" Watercolor © Tom Fong "Honor your mentors"— Tom Fong Besides James Couper Wright and Robert J. Uecker, he studied with artists such as Milford Zornes, George Post,Dong Kingman, Robert E. Wood, and Henry Fukuhara. "People always ask me, why do I paint? I answer with a real simple answer, 'I paint because it gives me joy.' I teach because I love sharing my art experiences with others and I also learn from my students." Tom retired early from the aerospace industry to devote more time to his passion. "After studying watercolor painting with adult education instructors for about 10 years, one of my instructors, Robert J. Uecker encouraged me to start teaching watercolor classes/workshops." Realizing "You can always make more money, but you can't make more time" he started painting full time and found a ready audience, eager to learn the secrets of his simple, bold approach to painting.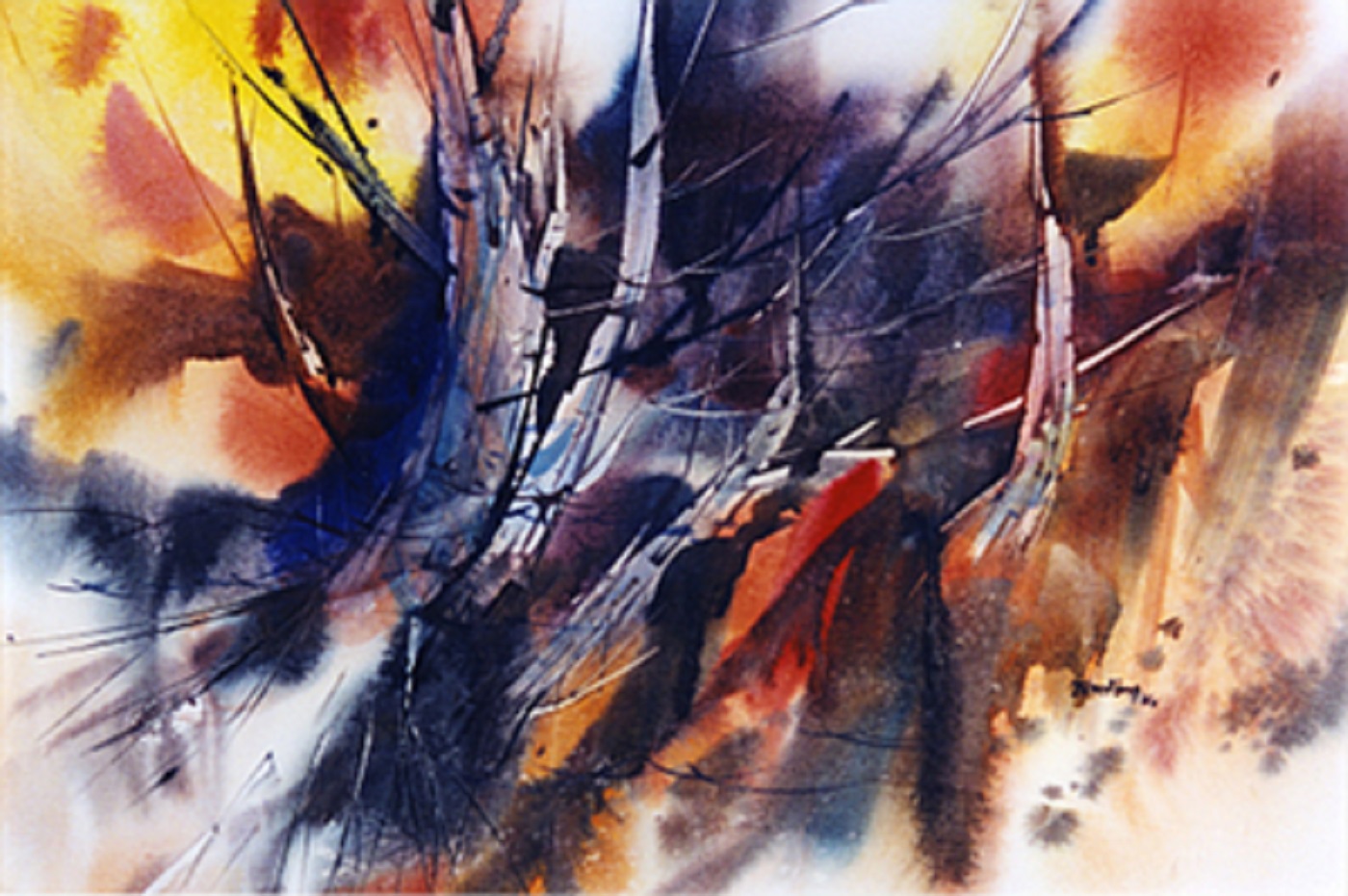 "Autumn Trees" 22" x 30" Watercolor © Tom Fong Tom Fong puts his trust in the process of painting, approaching it with a curious and intuitive spirit. His paintings display the colorful chaos of life simplified and stripped to its visual and kinetic essentials, serene yet dramatic. He comes right to the point when he paints. Working quickly, he has become known for his skill at "on the spot" painting demos, expertly weaving composition, paint, and color into dynamic pieces of expressive art. Hints of his past influences can be found in his paintings. The natural light and color of the California School are evident mixed with the playful design and whimsy echoing Kingman, Post and Uecker. Tom continues to serve it all up in a fresh light with energetic originality and contemporary aesthetics. Tom advises artists to "Honor your mentors" and take lessons to heart as you go your own way. His first purchased watercolor book, Edgar A. Whitney's Complete Guide to Watercolor Painting
remains his favorite. He reminds students, "You have to read it ALL, not just look at the pictures!"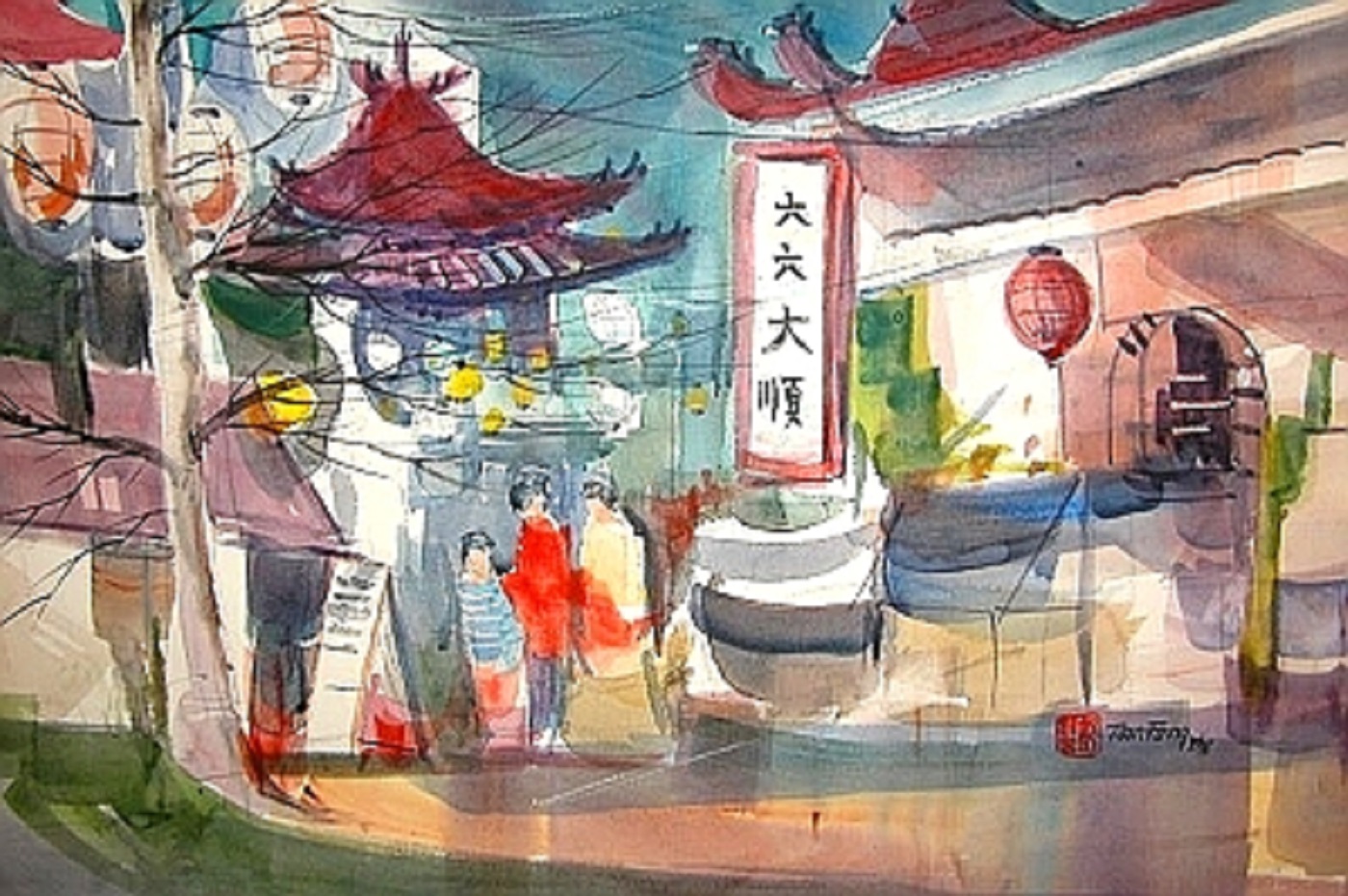 "Gin Ling Way" 15" x 22" Watercolor © Tom Fong "There's no right way or wrong way. You've just gotta make mistakes, but the more mistakes you make, the more you learn!" — Tom Fong Tom Fong is a signature member of Watercolor West. He served as president in 2003 and 2004 and is currently the Exhibition Screening Chair. His award winning paintings have been shown in numerous national competitions, and his work has appeared in Splash 6
and in The Artist's Magazine
, American Artist, Watercolor, and Watercolor Magic.
Tom has taught students at Santa Monica College and currently is teaching at Mount San Antonio College. He conducted workshops for the Palm Springs Museum of Art, the San Diego Watercolor Society, Robbie Laird's Kanuga Water Media, Patricia Allen's Yosemite in the Fall, including an international workshop in Scotland. Also, he has conducted a popular series of Watercolor Demonstrations for Watercolor West and the National Watercolor Society. Tom is a favorite guest instructor for the Yosemite National Park Association and he is often called upon for his judging skills in art shows. Visit his galleries and check out his 2010 and 2011 Demonstration and Workshop schedule at his website! Visit The Artist's Website