Cumming, Georgia
"WATERCOLOR: You Can Do It!"
by Tony Couch was first published in 1987 by Northlight Books. It quickly became the defacto textbook for watercolor instruction at many college art departments. In the 22 years since, he has brought inspiration and joy to thousands of students through his
books
,
videos
and watercolor
workshops
. He has also mentored many future art instructors, many of whom now proudly list attending "Tony Couch" workshops on their resumes. After receiving more than 70 national awards, authoring numerous best-selling instructional books,
10 "How To" videos
and being included in exhibitions of the
National Academy of Design
, I wondered how he came to be one of my favorite artists. So I asked him. The answer was years of thoughtful practice, planning, work, and more than a little patience. As with most artists, it all starts with the wishes and dreams of a kid with his head in the clouds. Queue the wayback machine... [caption id="attachment_714" align="alignnone" width="1264"]

"Detail"
- 2009[/caption] In the middle of the Great Depression a little boy named Tony drew pictures of airplanes on the sidewalk in front of his house in Miami, Florida. His dad was a flight-radio operator on the "
Flying Boats
" used for flight routes between Miami and Havana. Tony was born in 1929, when films and newspapers were the primary source of news, entertainment, and culture. He grew up influenced by the art he saw in the Sunday funny pages. When Tony was five, Al Capp started
Li'l Abner
and
Milton Caniff
started
Terry and the Pirates
. Both cartoonists were consummate draftsmen telling entertaining tales. Their works inspired many young artists, including Tony. When Tony moved from scratching rocks on sidewalks to drawing with pencil and paper, he began to entertain visions of being a "big time cartoonist" as he honed his drawing skills. Unfortunately, in school, art was a subject reserved for college students, not youngsters. Tony "spent a lot of time drawing in class when I should have been doing other things," but managed not to flunk out on his way to a diploma.
"I saw watercolor for the first time and I have to say it was love at first sight" —Tony Couch
He served in the Army National Guard while studying art at the
University of Tampa
and by the time Tony graduated in 1951 with a B.A. in Art, the Korean War was in full swing. So he decided to enlist in the Navy. After spending time as a gunner on a carrier off Korea, he entered Navy Flight Training and became a pilot, "Then a couple years flying P2V 'Neptunes' on the East Coast and North Africa and with the British on Malta." Returning to civilian life after 5 years in the service, Tony was eligible for the "K-vet Bill" which would help finance college education, covering the costs of books and tuition only. He started attending the Pratt Institute in the evenings, concentrating in illustration...the closest thing he could find to cartooning at the time. While attending school he supported himself as a cartoonist and line illustrator, first with the Associated Press, and then as a freelancer. On weekends he flew planes in the Naval Reserve. [caption id="attachment_715" align="alignnone" width="1263"]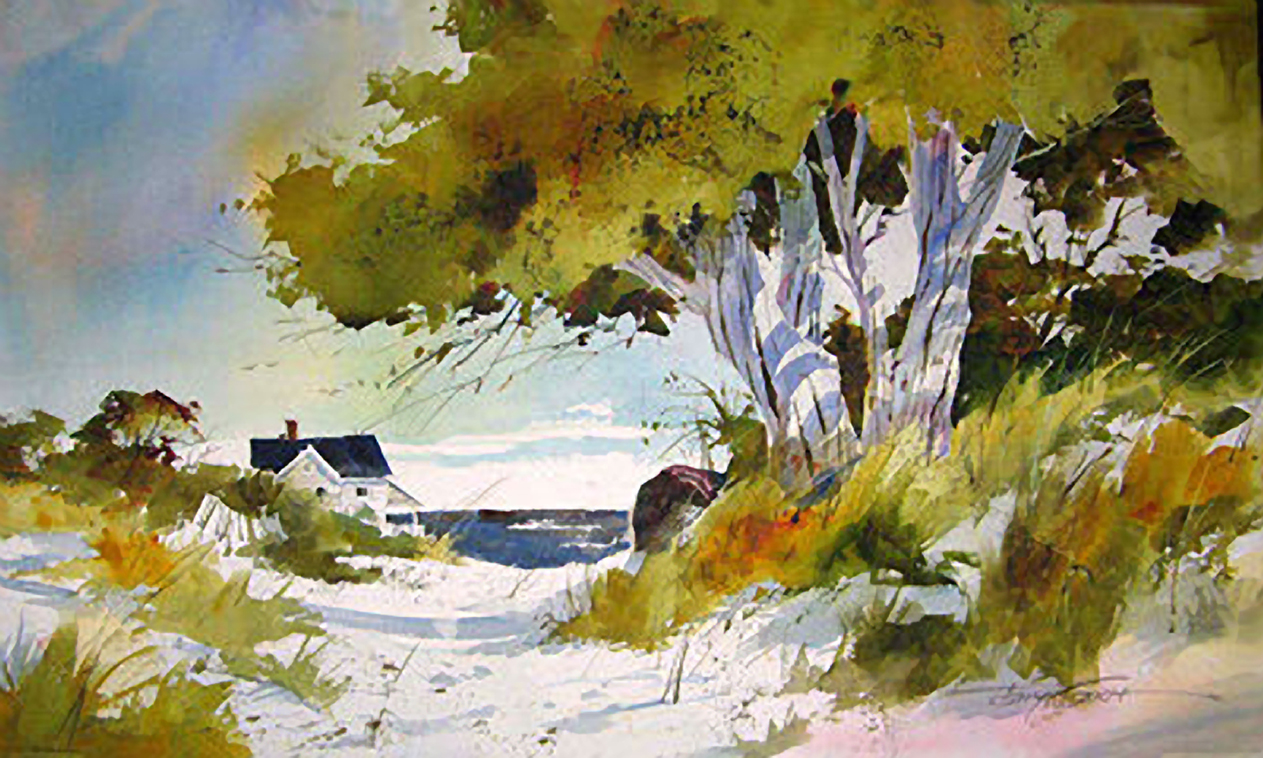 "Path to the Sea"
- 2009[/caption] "In school I took a semester of "an introduction to watercolor", taught by one
Edgar A. Whitney
, who was an art director at McCann Ericson Advertising during the day, and relatively unknown to the "art world". Here I saw watercolor for the first time and I have to say it was love at first sight." After three years of school, Tony discovered he was one of the few Naval Reserve Pilots who weren't working as a commercial pilot. What with the recession, freelance jobs were tighter than ever. As a student on the street he learned "a bunch that wasn't taught in school, including being an artist is a good way to starve to death," and in a quest for financial stability he decided to "fly now and paint later," leaving Pratt to begin working at Delta Airlines. In his 31 year career with Delta Airlines Tony says he "never let my skills with pen and pencil drop – doing freelance work in my off time to keep my 'hand in it'." While on the ground he freelanced in his spare time including cartoon work for the Houston Chronicle and illustrations for the Houston Post's Sunday Magazine. After a job transfer to Atlanta, he found the local freelance market discouragingly dry.
"Every painter is in "show biz" just as surely as any orchestra conductor or stage play director—each plies the same craft and in much the same manner." —Tony Couch
"So I dug out my watercolor equipment and started in on that. Right away I could see I badly needed help, so I looked up Ed Whitney, who by now was AWS and ANA, had quit the ad agency business, and was touring the country doing watercolor workshops. I joined him for a week long workshop and got a whole lot straightened out with this watercolor painting thing." "I went home, painted for a year, then returned to Ed for another workshop. I did that every year for about 12 years and that's largely how I learned to do what I do." [caption id="attachment_716" align="alignnone" width="1262"]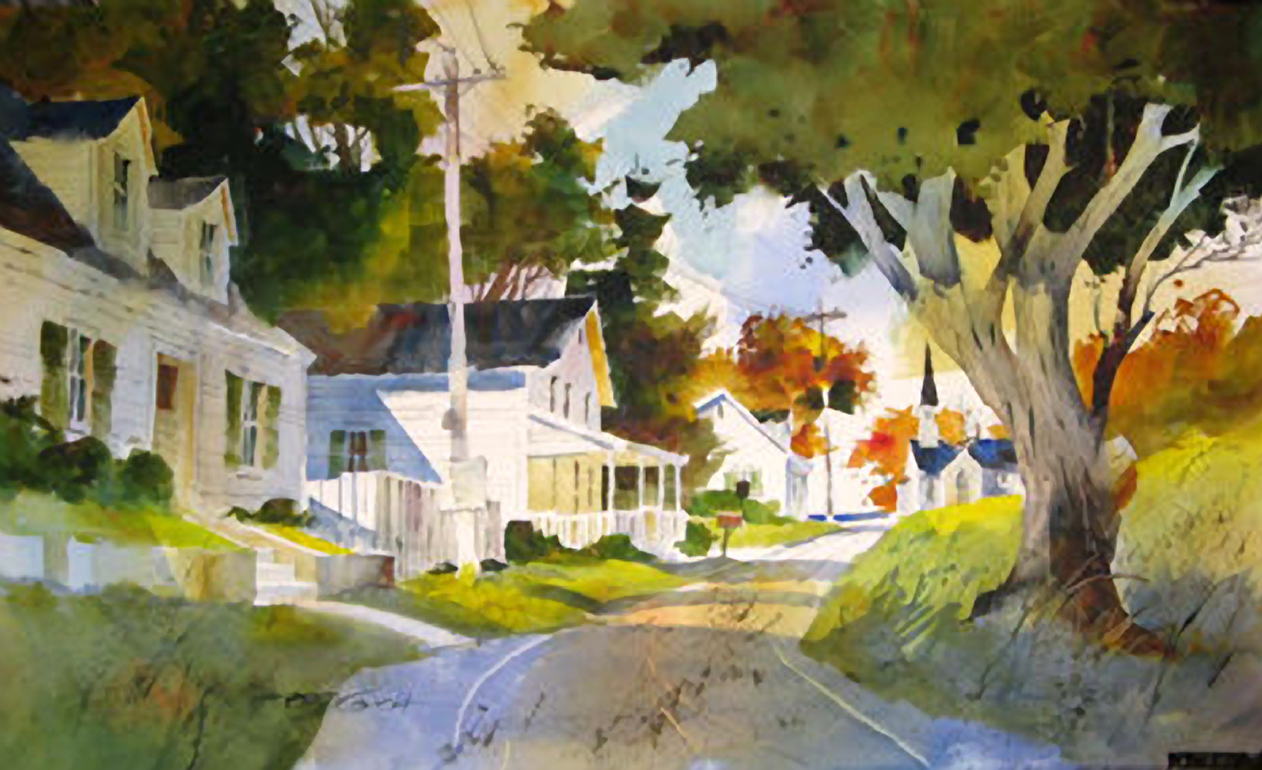 "Lost Dog"
- 2009[/caption] By 1967 Edgar Whitney students were seeking him out for workshops when they couldn't get Mr. Whitney to do a workshop in their town. "and that's how I started doing workshops." Tony said. As Tony's noteriety grew so did the pressure to codify his artistic philosophy in the form of a book. Starting in 1983 he wrote and illustrated his way through a dynamic course of study reflecting the best of his experience and that of his mentors. In 1987 "
WATERCOLOR: You Can Do It!
" was published by North Light Books. By 1990 Tony retired from Delta Airlines and began painting and teaching full time. Tony's watercolor instruction articles have appeared in several publications worldwide, including Palette Talk, North Light, American Artist, Australian Artist , The
Artist's Magazine
, and Watercolor Magic. Tony Couch is a visual entertainer at heart. His eye-catching style is based on a masterful command of drawing and composition and a refreshingly direct approach that embraces the fluid and maleable qualities of watercolor. He delivers with a flair often strived for but seldom matched. His watercolors always deliver more than the sum of their parts, effortlessly merging the impressionistic with the representational. [caption id="attachment_717" align="alignnone" width="1263"]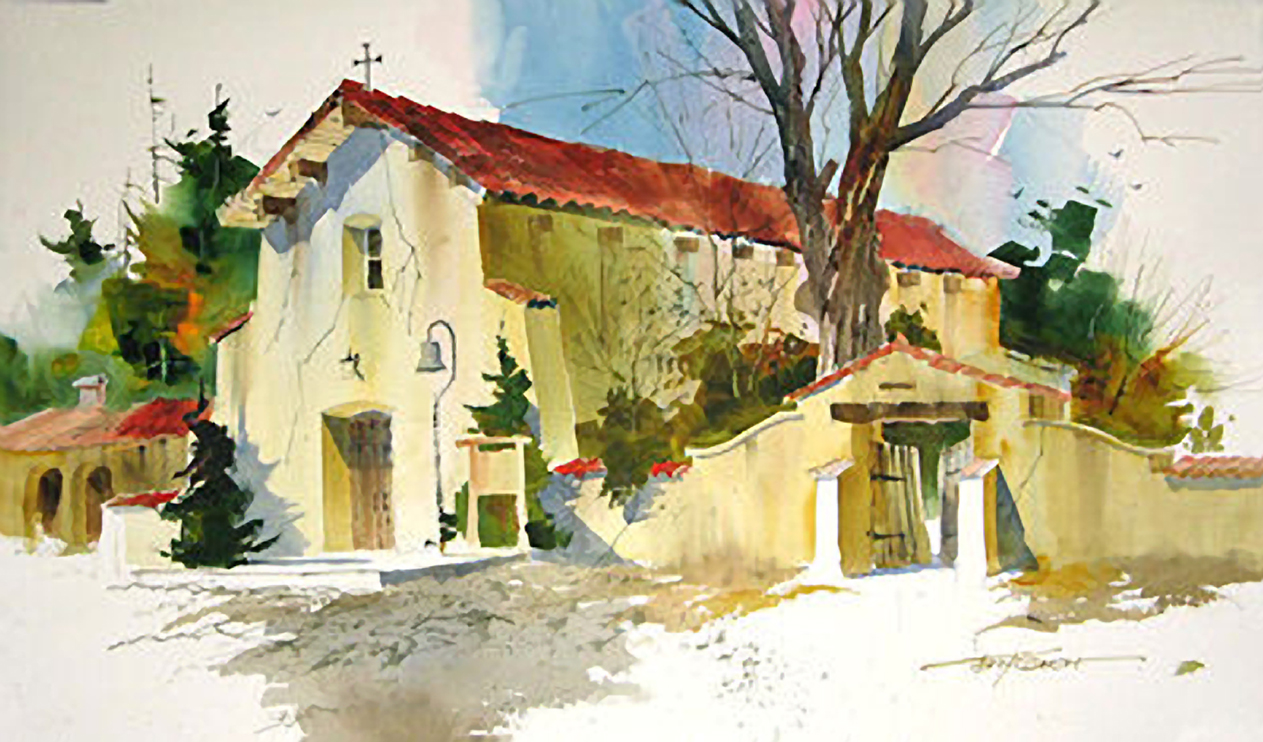 "San Miguel Mission"
-2009[/caption] As to his artistic influences, Tony says, "Certainly
Ed Whitney
, as I spent most of my learning time with him. Here was a guy who knew design forwards and backwards – and could teach it, and I came to see design is a very large part of the game. I was also influenced by Robert E. Wood,
Milford Zorn
and
Zoltan Szabo
, with whom I studied, and
John Pike
,
Ted Kautzky
, Claude Croney and
Rex Brandt
, through their books." He gets his most enjoyment while teaching "when I see the 'light go on' in a student, and when I see a determined student's progress." But as an artist it's "the time I have by myself outdoors with my sketchbook, and time in my studio painting with the phone off the hook – especially when I finally get it right." Tony Couch knows how to get it right. Give his books and articles a read. Watch his videos. Attend a workshop. Take notes and take heart, you may find your wings along the way. To paraphrase an old airline slogan: Tony Couch. He loves to paint. And it shows. Tony has been elected to membership in the
Academic Artists Association
,
Allied Artists of America
, the
Hudson Valley Art Association
, the Knickerbocker Artists, the
Salmagundi Club
, the Society of Marine Painters,
Watercolor West
, the Whiskey Painters of America and the Pittsburgh,
Georgia
, Southern and
Midwest
Watercolor Societies.